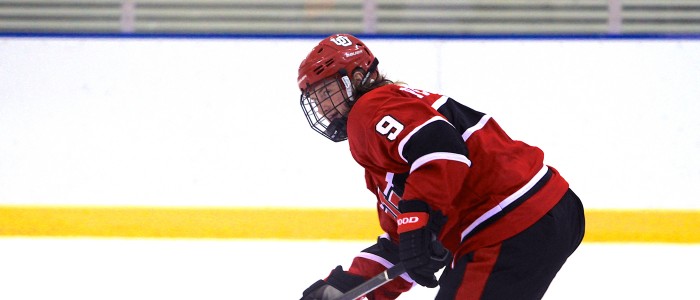 November 6, 2015
Eugene, OR
It's a rematch of the 2013 and 2015 PAC-8 Championship games this weekend as the second-ranked University of Utah Skatin' Utes head up to Eugene for a two-game series against the Oregon Ducks.
This weekend's games mark the first meeting between the teams since the 2015 PAC-8 Championship in Lake Tahoe, CA, where the Utes won their second PAC-8 championship by beating the Ducks 5-1. The Utes are 9-1 all-time against the Ducks and have won six straight against what has turned out to be Utah's biggest rival in the PAC-8 Conference.
The Ducks are coming off two wins at home last weekend against Portland State, winning 7-6 and 8-4 respectively to push their record back to the winning side at 4-3-1 and 2-1-1 in conference play. Most of the Ducks that took on Utah in the PAC-8 Championship last year are back this season, except for one big loss in between the pipes for Oregon.
Jackson Howery and Ben Green have the tough task of replacing long-time veteran Danny Cockriel in net for Oregon, who faced 58 shots in the last meeting between these two teams. With the Utes averaging over 40 shots per game this season, the goaltenders from Oregon will have work cut out for them against the Utes.
The 2nd ranked Utes meanwhile are coming off a record-breaking performance last weekend in their 17-3 win over the BYU Cougars for their 24th straight win against their southern rivals. The team is still unbeaten on the season at 10-0-2 and sits at 2-0 in PAC-8 conference play so far.
Rookie Brett Myer now leads the team in scoring after his five-goal and seven-point performance against BYU last weekend put him at 16 points on the season. Close behind him in the points race are Shaymus Bertagnolli and Michael Ahern, who both sit at 14 points this year. In goal, both Chris Komma and Devan Betts have unblemished records at 3-0-1 and 5-0-1 respectively with Komma posting a 2.01 GAA and Betts a 1.83 GAA so far on the season.
The Utes will put their unbeaten streak on the line starting with Friday's game in Eugene at 7pm PST from the Lane County Ice Rink. Saturday's game against the Ducks will also take place at 7pm PST.