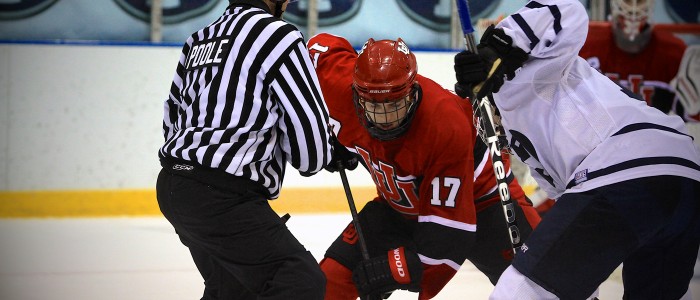 November 2, 2015
Salt Lake City, UT
The Utes wrapped up their season series with their rivals from Provo over the weekend as they traveled down south and handed the BYU Cougars another loss, beating them 17-3.
The Utes scored early and often in the first period as Brett Myer had a night to remember, scoring four goals by himself in the first period to give Utah a 5-1 lead after the first twenty minutes. The Utes gave up a power play goal in the period but outshot the Cougars 20-5 in the opening period.
The second and third periods were more of the same for Utah as they dominated the stat sheet, putting up four goals in the second period and seven in the third to cruise to the 17-3 win and complete the season sweep of the Cougars.
With the win, the Utes swept the season series 2-0 and continued their dominance over BYU with their 24th straight victory over the Cougars, a streak that dates all the way back to February of 2011. In addition to breaking their current record-breaking streak over BYU, the Utes set other records as well on Friday night in Provo.
The 17 goals scored by Utah in the contest is the most that the team has ever scored in one game against BYU in team history. The previous record was 13 set back in January of 2014 where the Utes shutout the Cougars 13-0 at home. With the numerous goals came even more shots for the Utes, as they outshot BYU 77-17 in the game which also marks the second most shots against any opponent in a game and the most against the Cougars. The Utes missed out on the all-time record by just two shots as they outshot Washington 79-13 in Seattle last season.
In all, 16 of Utah's 21 dressed players had at least one point in the game, with 11 of them having multiple points. No one had a better point night than rookie Brett Myer, as he tallied five goals and two assists for seven points on the night, the most of anyone on the team. With his performance he now moves into a tie with Michael Ahern for the team lead in points with 15 each.
Chris Komma made his return in between the pipes on Friday for the Utes after missing the last month with a lower body injury. Komma had 14 saves and an assist for his third win of the season.
The Utes now sit at 10-0-2 on the season, which also officially broke the team record for the best start in team history and the longest the team has gone at any point in any season without taking a loss.
Next up the Utes hit the road as they head to Eugene for a PAC-8 Championship rematch with the Oregon Ducks on Friday and Saturday.