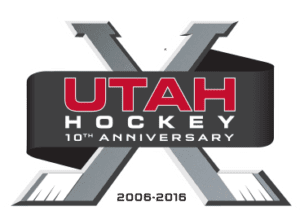 2016-17 Utah Hockey Season Tickets are now available, and Utah Hockey is excited to offer three different ticket plans for our fans! If you are a University of Utah Student please click here. Full season details can be found here.
Adult Season Ticket: Get all 14 Utah Hockey Events including the 2nd Annual Alumni Game, Park City Exhibition Game, and the Holiday Skate at the Galivan Center for only $45 ($67 Savings). This package includes in state rivals BYU, Weber State, and Utah State. Utah will also host Arizona State, Texas A&M, University of Jamestown, and Colorado State University.
Adult Season Ticket w/T-Shirt: This ticket includes all Utah Hockey Events, PLUS the 10th Anniverary T-Shirt for only $49
Adult Ultimate Season Package w/T-Shirt & Helmet Raffle: This package includes all Utah Hockey Events, PLUS the 10th Anniversary T-Shirt, AND you will automatically be entered into the drawing to win this Utah Hockey 10th Anniversary Mask for only $49!
Of note, 2016 Season Ticket Holders will receive paper tickets that will be availble for pickup on October 14, 2016. So please have your credit card and email address ready as a valid email address is required to receive your confirmation for your tickets. Remember tickets are fully transferable, so if you can't make a game, just give the ticket to a friend. If you need more than 10 season tickets, or are having any problems with our system, please contact our ticket staff.