Please visit our information pages on recruitment or tryouts before contacting the coaching staff directly regarding recruitment or tryouts.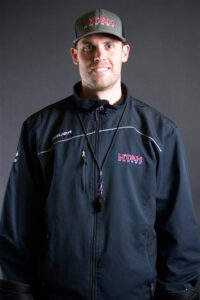 HEAD COACH
Years Coaching with Utah: 4
2016 PAC-8 Coach of the Year
Prior to his collegiate playing career, Brett played for the GCK Lions and HC Lugano (Swiss Junior Elite A) and for the Elmira Sugar Kings of the Greater Ontario Junior Hockey League (GOJHL) alongside Assistant Coach Kevin Labatte. Throughout his Junior career Brett was also a member of the French National U16, U18, and U20 hockey programs.
Brett attended St. Lawrence University (NCAA Division I) in Canton, NY and walked on to the team as a Freshman where he played for Joe Marsh (482-418-75 NCAA DI Record). He later transferred to SUNY Geneseo (NCAA D III) in Geneseo, NY and played for Chris Shultz (132-95-11 NCAA III record, 2013-2014 Division III coach of the year). He graduated with a degree in Business Administration in 2009 and was a member of the Marketing Association. During his final semester of college, Brett was an intern for the Rochester Americans of the American Hockey League (AHL).
Career playing highlights for Brett also include attending 2 professional training camps with HC Lugano (Swiss A League), 1 with EHC Chur (Swiss B League), 1 with Tours (French Ligue Magnus). He played 4 exhibition games for HC Lugano (Swiss A League). Played Semi-Pro with GDT Bellinzona (Swiss 1. Liga).