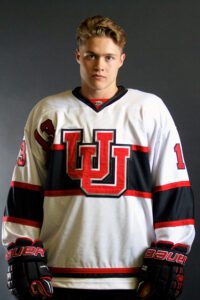 Number:
Position:
Standing:
Major:
Home Town:
Height:
Weight:
Shot:
Years with Utah:
Previous Team:
Favorite NHL Team:
Favorite NHL Player:
Favorite Sport beside Hockey:
Favorite Movie:
Awards:
Bio:
13
Defense
Junior
Business
Ogden, Utah
6'00"
195 lbs
Right
3
Utah Golden Eagles U18 AA
Washington Capitals
Alex Ovechkin
Tennis
Wolf Of Wall Street
2017 Academic Athlete of the Year
Beery was born in Wiesbaden, Germany, and graduated from Ogden High School. Beery has two National Tournament appearances and two State Championship games under his belt. Beery is part of the Business Scholars Program and my favorite hockey moments are any day I get to spend with the boys.
Everyday is a great day for hockey." – Mario Lemieux