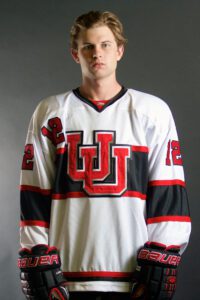 Number:
Position:
Standing:
Major:
Home Town:
Height:
Weight:
Shot:
Years with Utah:
Previous Team:
Favorite NHL Team:
Favorite NHL Player:
Favorite Sport beside Hockey:
Favorite Movie:
Awards:
Bio:
12
Forward
Junior
Exercise and Sports Science
Boise, Idaho
6'01"
160 lbs
Right
3
Idaho Junior Steelheads
Detroit Red Wings
Dominic Moore
Golf
Friday Night Lights
–
I grew up playing many sports, but when it came down to choosing one hockey was my passion. I played in the Idaho Junior Steelheads and the Northwest Regulators. My favorite hockey memories would have to be wining the State Championship in overtime with the Idaho Junior Steelheads, and all the trips across the country with the boys every season. I am studying Exercise and Sports Science with the plans to attend Medical School. I enjoy hanging out with friends, working out, and being with the boys at the rink.
The more you sweat in training the less you bleed in combat" -Navy Seal