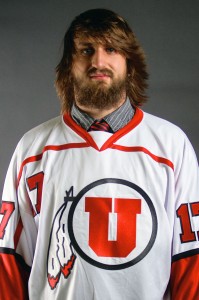 Number:
Position:
Standing:
Major:
Home Town:
Height:
Weight:
Shot:
Years with Utah:
Previous Team:
Favorite NHL Team:
Favorite NHL Player:
Favorite Sport beside Hockey:
Bio:
17
Forward
Graduate
Entertainment Arts and Engineering
Fountain Valley, California
5'08"
175 lbs
Right
3
Utah Valley University, ACHA
Los Angeles Kings
Pavel Datsyuk
Lacrosse
I have grown up living and playing hockey in both California and Utah. I played competitive travel hockey since I was 7 years old and have played college hockey for both Utah Valley University and the University of Utah. After this season, I plan on moving to the Bay Area in Northern California to continue my career in the software development industry.
Can you fill the bottles rooks?"