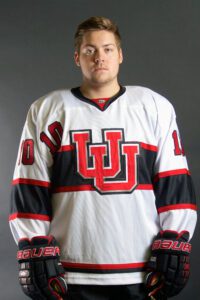 Number:
Position:
Standing:
Major:
Home Town:
Height:
Weight:
Shot:
Years with Utah:
Previous Team:
Favorite NHL Team:
Favorite NHL Player:
Favorite Sport beside Hockey:
Favorite Movie:
Awards:
Bio:
10
Forward
Freshman
General Studies
West Jordan, Utah
6'01"
210 lbs
Left
1
Dallas Snipers, WSHL
Colorado Avalanche
Joe Sakic
Lacrosse
Goon
–
I was born in Colorado Springs, Colorado and began playing hockey at the age of three. I played hockey, lacrosse, and water polo for Copper Hills High School and graduated in 2015. I played for Utah Northwest Regulators 16AA team as well as the West Coast Renegades 18AAA Tier 1 team. After graduating from Copper Hills, I moved to Dallas, Texas to play for the Dallas Snipers in the WSHL for the 2015-2016 season.
Whatever you are, be a good one." -Abraham Lincoln