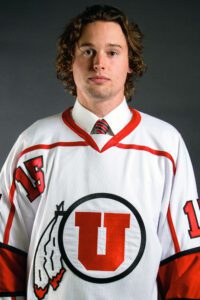 Number:
Position:
Standing:
Major:
Home Town:
Height:
Weight:
Shot:
Years with Utah:
Previous Team:
Favorite NHL Team:
Favorite NHL Player:
Favorite Sport beside Hockey:
Awards:
Bio:
15
Defense
Senior
Environmental Studies
Boise, Idaho
5'10"
165 lbs
Right
4
Idaho Jr. Steelheads
Chicago Blackhawks
Duncan Keith
Football
2015 Iron Man Award
My favorite hockey memories were waking up early, before school, to get in a practice. It was sweet. I would love to be a city planner using my emphasis in Environmental studies as a guide.
You miss 100% of the shots you don't take." -Wayne Gretzky