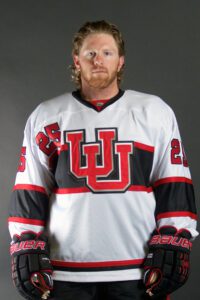 Number:
Position:
Standing:
Major:
Home Town:
Height:
Weight:
Shot:
Years with Utah:
Previous Team:
Favorite NHL Team:
Favorite NHL Player:
Favorite Sport beside Hockey:
Favorite Movie:
Awards:
Bio:
25
Forward
Freshman
Civil Engineering
Gillette, Wyoming
5'11"
200 lbs
Right
1
Gillette Wild, NA3HL
Colorado Avalanche
Joe Sakic
Baseball
Happy Gilmore
2017 Rookie of the Year
My favorite hockey moment was winning back to back to back state championships in highschool. I also enjoyed my four years of junior hockey and all of the life long friends I made. After school I want to use my engineering talents to make a difference in the world.
Hardwork beats talent when talent doesn't work hard" -Tim Notke