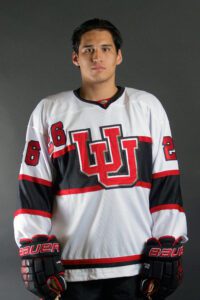 Number:
Position:
Standing:
Major:
Home Town:
Height:
Weight:
Shot:
Years with Utah:
Previous Team:
Favorite NHL Team:
Favorite NHL Player:
Favorite Sport beside Hockey:
Favorite Movie:
Awards:
Bio:
26
Defense
Sophomore
Finance
Bountiful, Utah
6'00"
210 lbs
Right
2
Weber State University, ACHA
Montreal Canadiens
PK Subban
Soccer
Youngblood
–
My favorite hockey moment is playing for the Utah Golden Eagles U16 AA team and placing 3rd at Nationals in addition to going to the 2016 ACHA National Tournament with Utah. When not on the ice, I enjoy hiking and competing in spartan races. After college I would like to work internationally helping operate companies in South America.
Find what you love and let it kill you" – Charles Bukowsk