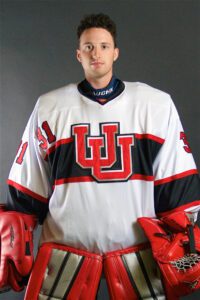 Number:
Position:
Standing:
Major:
Home Town:
Height:
Weight:
Shot:
Years with Utah:
Previous Team:
Favorite NHL Team:
Favorite NHL Player:
Favorite Sport beside Hockey:
Awards:
Bio:
31
Goalie
Sophomore
Entrepreneurship
Eagan, Minnesota
5'09"
165 lbs
Left
2
Eagan Wildcats, MHSHL
Minnesota Wild
Scott Darling
Football
–
I'm probably dancing right now. Pineapple enthusiast. Plans after college include owning a fishing restaurant in Las Vegas as well as an Arena Football team called the Las Vegas Lobsters.
Who do you think you are I am" – Pete Weber