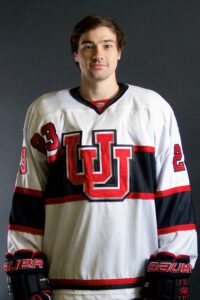 Number:
Position:
Standing:
Major:
Home Town:
Height:
Weight:
Shot:
Years with Utah:
Previous Team:
Favorite NHL Team:
Favorite NHL Player:
Favorite Sport beside Hockey:
Favorite Movie:
Awards:
Bio:
6
Forward
Sophomore
Biology
Camarillo, California
6'00"
170 lbs
Right
2
California Titans, NAPHL
Los Angeles Kings
Steven Stamkos
Football
The Revenant
–
I grew up in southern California playing for the California Titans in the NAPHL. My favorite hockey memory was playing in the State Championship last season. I am studying Biology and plan on attending medical school after graduation.
He who says he can, and he who says he can't, are both usually right."