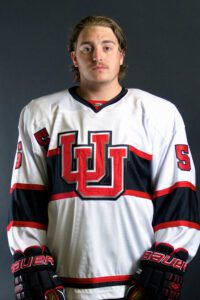 Number:
Position:
Standing:
Major:
Home Town:
Height:
Weight:
Shot:
Years with Utah:
Previous Team:
Favorite NHL Team:
Favorite NHL Player:
Favorite Sport beside Hockey:
Favorite Movie:
Awards:
Bio:
5
Defense
Sophomore
Computer Engineering
Gillette, Wyoming
5'10"
190 lbs
Left
1
Gillette Wild, NA3HL
Colorado Avalanche
Brett Burns
Football
Kung Fu Panda
–
I have been playing hockey for around 15 years since I moved to Gillette. Out of all of these years, I would say my favorite hockey moments would be winning 3 state titles and an appereance to the International Silver Stick tournament. After I finish school I hope to join a technology company, work to improve my skills, and build upon something great. Outside of hockey I spend a majority of my free time either with my friends or working on my computer.
Free from desire, you realize the mystery. Caught in desire, you see only the manifestations." – Lao Tzu