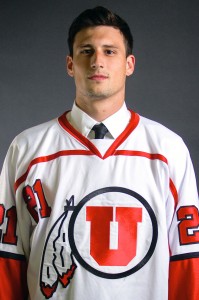 Number:
Position:
Standing:
Major:
Home Town:
Height:
Weight:
Shot:
Years with Utah:
Previous Team:
Favorite NHL Team:
Favorite NHL Player:
Favorite Sport beside Hockey:
Awards:
Bio:
21
Forward
Senior
International Business
Salt Lake City, Utah
6'00"
165 lbs
Right
3
Northwest Regulators
Detroit Red Wings
Pavel Datsyuk
Basketball
2015 3rd Team All PAC-8
Seastrand grew up playing on youth travel teams and eventually played with the Northwest Regulators, Chadders, and Skyline Highschool. After graduating highschool Seastrand served his LDS mission in Tampico, Mexico. He has been married since 2014.
What a Blessing and Life is Good!"