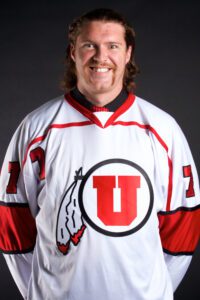 Number:
Position:
Standing:
Major:
Home Town:
Height:
Weight:
Shot:
Years with Utah:
Previous Team:
Favorite NHL Team:
Favorite NHL Player:
Favorite Sport beside Hockey:
Awards:
Bio:
7
Defense
Senior
Anthropology
Västerås, Sweden
6'04"
235 lbs
Left
1
Weber State University, ACHA
Los Angeles Kings
Johnny Gaudreau
Soccer
–
Born in San Diego, California, Soderlund grew up in Sweden and the United States and holds citizenship in both nations. Soderlund started playing hockey at the age of 3 and plans to pursue a post graduate career in travel journalism. In his free time enjoys traveling and skiing.
"All Swedish, no Finnish" – One lucky Finn, once upon a time