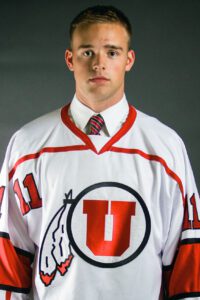 Number:
Position:
Standing:
Major:
Home Town:
Height:
Weight:
Shot:
Years with Utah:
Previous Team:
Favorite NHL Team:
Favorite NHL Player:
Favorite Sport beside Hockey:
Bio:
11
Forward
Sophmore
Excercise and Sports Science
Wolverine Lake, Michigan
6'01"
190 lbs
Left
2
Walled Lake Central HS
Detroit Red Wings
Pavel Datsyuk
Lacrosse
Andrew has played hockey since he was three. After college he will be commissioned as a Second Lieutenant in the US Army and would like to own a gym one day. Cannot get enough crab legs or Star Wars.
You miss 100% of the shots you don't take." -Wayne Gretzky