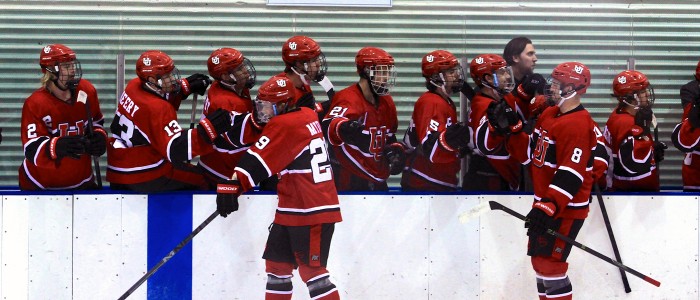 November 2, 2015
Salt Lake City, UT
The University of Utah Skatin' Utes are off to their best start in club history and their early success has paid off as the Utes debut at number two in the first ACHA West Rankings of the season.
The first of four rankings that will be released this season came out Sunday afternoon, with the Utes receiving their highest ranking ever in club history since the team reformed back in 2006. The Utes were as high as number three in the poll the last two seasons but has never cracked the top two.
Arizona State Elite's undefeated record against West Division opponents earned them all 12 first place votes in the poll as they took the number one spot. The Utes received all the second place votes from the ranking committee with 20 points in the poll (the fewer points you have the higher you are in the rankings).
Montana Tech debuts at number three in the poll, followed by Utah State and Boise State rounding out the top five of the rankings. ASU Maroon is in at number six, followed by Weber State in seventh, Denver in eighth, and Northern Arizona at number nine. UNLV took the final spot in the top ten of the rankings.
New this year is the addition of three more teams ranked in the poll, extending the ranking from 15 teams to 18. Northern Colorado, Cal State Northridge (Utah's next home opponent), Cal State Long Beach, San Jose State, and San Diego State hold the 11 through 15 spots in the rankings with Texas A&M, Loyola Marymount, and Washington receiving the new final three spots in the poll.
BYU, Wyoming, and Dallas Baptist all also received votes in the rankings, but did not crack the top 18.
With Utah's 2nd place ranking, the Utes would qualify for an automatic bid to this year's ACHA National Championship Tournament in West Chester, PA if they were to hold on to their ranking at the season's end.
Utah will play their first game as the 2nd best team in the West this weekend as they hit the road for a PAC-8 matchup with the Oregon Ducks in Eugene on Friday and Saturday.