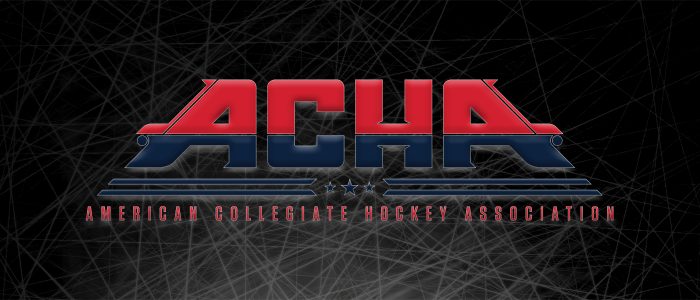 February 8, 2017
Salt Lake City, UT
After the University of Utah Skatin' Utes split last weekend with #6 Jamestown at home, the team has moved into the top 20 of the ACHA Division I rankings for the first time in school history.
Thanks to their 4-3 shootout win on Saturday, the Utes moved up two spots to #19 in the computer rankings that were released on Wednesday. The ranking is now the highest the Utes have ever been in the poll, and it's the third straight week that the Utes have been in the top 25. That makes it now seven times that the Utes have been in the ACHA rankings this year.
The Utes are 18-8 on the season and are 5-8 against Division I opponents.
Despite the Utes cracking into the top 20 for the first time – which would put them into Nationals – the Utes still find themselves just outside the field for this year's championship tournament.
The ACHA Division I National Tournament is built similarly to the NCAA Basketball tournament, where the league's six conferences each have an auto-bid at stake for the National Tournament. Two of the six auto-bids have already been decided as #33 Drexel clinched the first auto-bid by winning the Eastern Collegiate Hockey Association (ECHA) regular season title a couple of weeks ago. #3 Adrian is the other team that has clinched their conference title, as they won the Great Lakes Collegiate Hockey League (GLCHL) this past weekend.
That leaves four auto-bids left up for grabs between the CHMA (College Hockey Mid-America), ESCHL (Eastern States Collegiate Hockey League), NECHL (Northeast Collegiate Hockey League), and the WCHL (Western Collegiate Hockey League). Here are the four teams that currently hold on to those auto bid spots:
CHMA: #40 Duquesne
ESCHL: #17 Delaware
NECHL: #23 Syracuse
WCHL: #11 Arizona State
As of right now #23 Syracuse, #33 Drexel, and #40 Duquesne would all make the National Championship tournament, knocking out the bottom three teams currently in the top 20. Those three teams right now are #19 Utah, #20 Colorado State, and #21 Arizona (#6 Jamestown is not eligible to go to Nationals, thus moving the final spot back to #21).
With the auto-bids taking away those spots the Utes need to climb up just one more spot to break into the field for Nationals.
They'll have a chance to do that this weekend, as the Utes are on the road for the final time this season to take on #10 Iowa State. Friday and Saturday's games from Ames, IA will begin at 7:30pm CT.