January 8, 2016
Salt Lake City, UT
To All Hockey Fans,
It is that time again and you all to the University of Utah's 4th Annual Breast Cancer Awareness Night on January 22nd, 2016.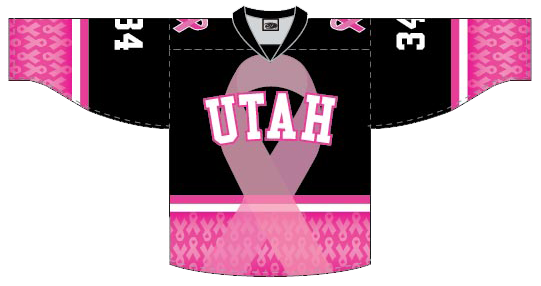 Once again we are looking for volunteers and donations for our Raffle. We will be auctioning off the most awesome player jerseys EVER. It is a really fun night for a really great cause. The Huntsman Cancer Hospital will again be the recipient of our fundraising efforts. All money will be earmarked for Breast Cancer Research.
As a survivor myself, I have first hand understanding of how important continued research is. This event is anticipated all season by Utah Hockey fans, and we would really love you to join us! I certainly understand how busy you all are, so if you cannot make it you can make a donation here.
I truly believe by all efforts big and small one day there will be a cure but in the meantime, we keep at it because No One Fights Alone! We Believe, Do "U"?
Please forward this to all your Friends and Family and anyone else who you think might be interested. If you have someone who is currently fighting cancer (of any kind) and you would like them honored at the game, please email us with the email below.
Hope 2016 blesses you all with an abundance of Happiness and Good Health!
Signed,
Bridgette Bertagnolli
Please email us with volunteer and donation questions.