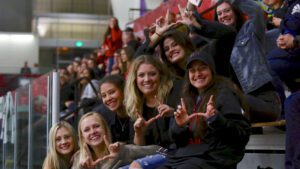 OBJECTIVE:
Our self funded nonprofit organization is seeking partners for sponsorship/advertising for the 2023-24 season, scheduled to begin September of 2023. As a Utah Hockey Partner, you can show your support of the Skatin' Utes during every home game, all season long! Sponsorship opportunities are designed to promote your business and connect you with more customers, all while supporting the fastest student athletes on campus.
BENEFIT:
Year after year, the achievements of Utah Hockey grows, both on and off the ice. Including major moves such as the men's move to ACHA Division 1 in 2016, addition of Women's program in 2019, the return of Division 2 men's program in 2022 Additionally, Utah Hockey has seen four Wasatch Cup Championships, 3 straight appearances in the ACHA Regional Tournament, 5 straight appearances in the PAC-8 Championships, 2 straight appearances in ACHA Nationals Championships, and PAC-8 Champions in 2013, 2015, and 2016!
Combine these on-ice accolades with several Master & PhD degrees, Marshall Scholar Finalist, an average of 9 Student Athletes on the Dean's List, a Team GPA of 3.2, and the Skatin' Utes have a proven track record of contributing to the academic success of student athletes.
Becoming a sponsor/advertiser only strengthens this success by contributing to the program's foundation as much as the players themselves. Finally, Utah Hockey has hosted the 2013 ACHA Regional Tournament, 2014 PAC-8 Championships, 2015 Wasatch Cup, and the 2015 ACHA National Championships, and as a sponsor/advertiser you will have a unique opportunity to expose your brand to a National Audience.
Our detailed investment packet can be found here. Please direct any other questions to our sales staff.
Private
Bronze Level
Silver
Gold
Diamond
Platinum Level
Related Images: