Utah continues unbeaten streak against BYU
Posted On October 26, 2018
---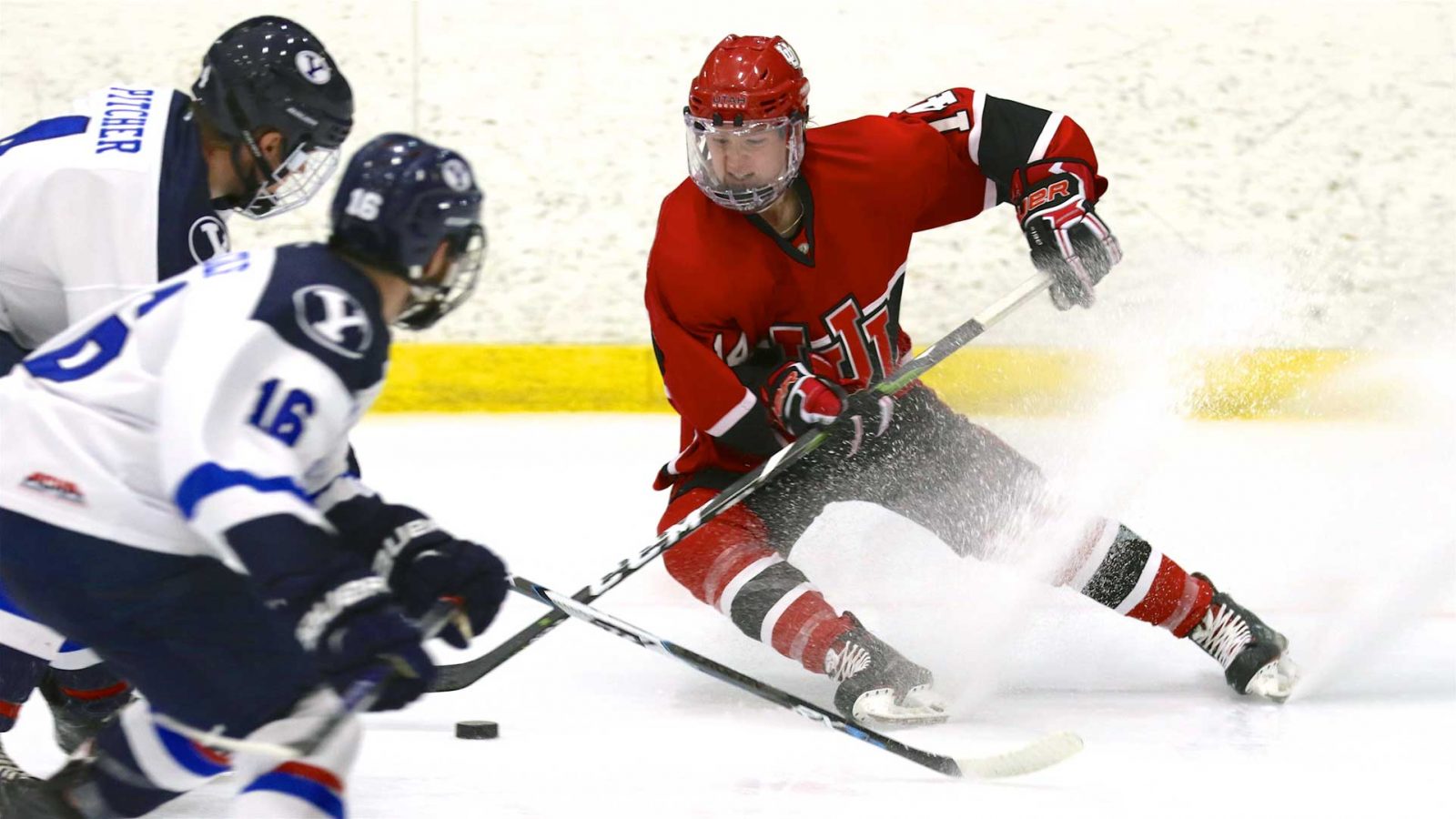 October 26th, 2018
Provo, UT
The Skatin' Utes traveled South and shut out the Cougars on Friday 3-0. The unbeaten streak now stands at 28 games.
Utah has been plagued with injuries early on including Captain Alex King, who has been on IR since game one. With King's return uncertain, Brett Myer has earned the C and said, "everyone is stepping up across the board. Our goalies are too. I think it has just been a mentality for our team this year."
Utah scored once in every period on Friday night. At 00:59 of the first period and shorthanded with a 4 on 3 PK, Brett Myer rushed the puck with Owen Leberknight flanking him. Myer sauced the puck over the defender with Leberknight rushing the net, and Owen tipped it top-shelf to put the Utes up 1-0.
At 2:19 of the second, Tristen Leberknight, Owen's older brother, took a blue line slap shot and Owen was net front for another tipped goal. Owen mentioned, "I don't think you can have better chemistry than with your brother."
Rookie Zachary Jerome capitalized on a turnover and put Utah up by 3 goals at 13:43 of third period with the assist going to Defenseman David Barnes.
Utah struggled with their breakout at times with several passes landing on Cougar tape. However, with Patrick Kasper in the goal, Utah kept the puck out of their net. Captain Brett Myer mentioned, "if we didn't have [Kasper] in the net tonight absolutely buzzing, it might have been a different story."
Goalie match-up: Patrick Kasper took the net for Utah while across the ice former Skatin' Ute, Jared Manzella (2015, 2016), who defended the pipes for BYU. Kasper handled 20 saves for Utah including crucial breakaway and front door shots in the first period. Manzella had 25 saves on 28 shots.
Player of the game was Owen Leberknight with two goals for the night. Early this season Leberknight showed offensive prowess, but it hasn't translated to goals. His only goal this season came from an empty net. Owen mentioned that "In other games I was taking to much time to put the puck in a specific spot. Today I was just trying to put it on net… quicker than usual."
Utah will face BYU a second time at home Saturday night at 7:30
---
[ngg src="galleries" ids="13″ display="pro_horizontal_filmstrip"]
---
You may also like