Utah falls to Colorado State 6-3
Posted On November 10, 2018
---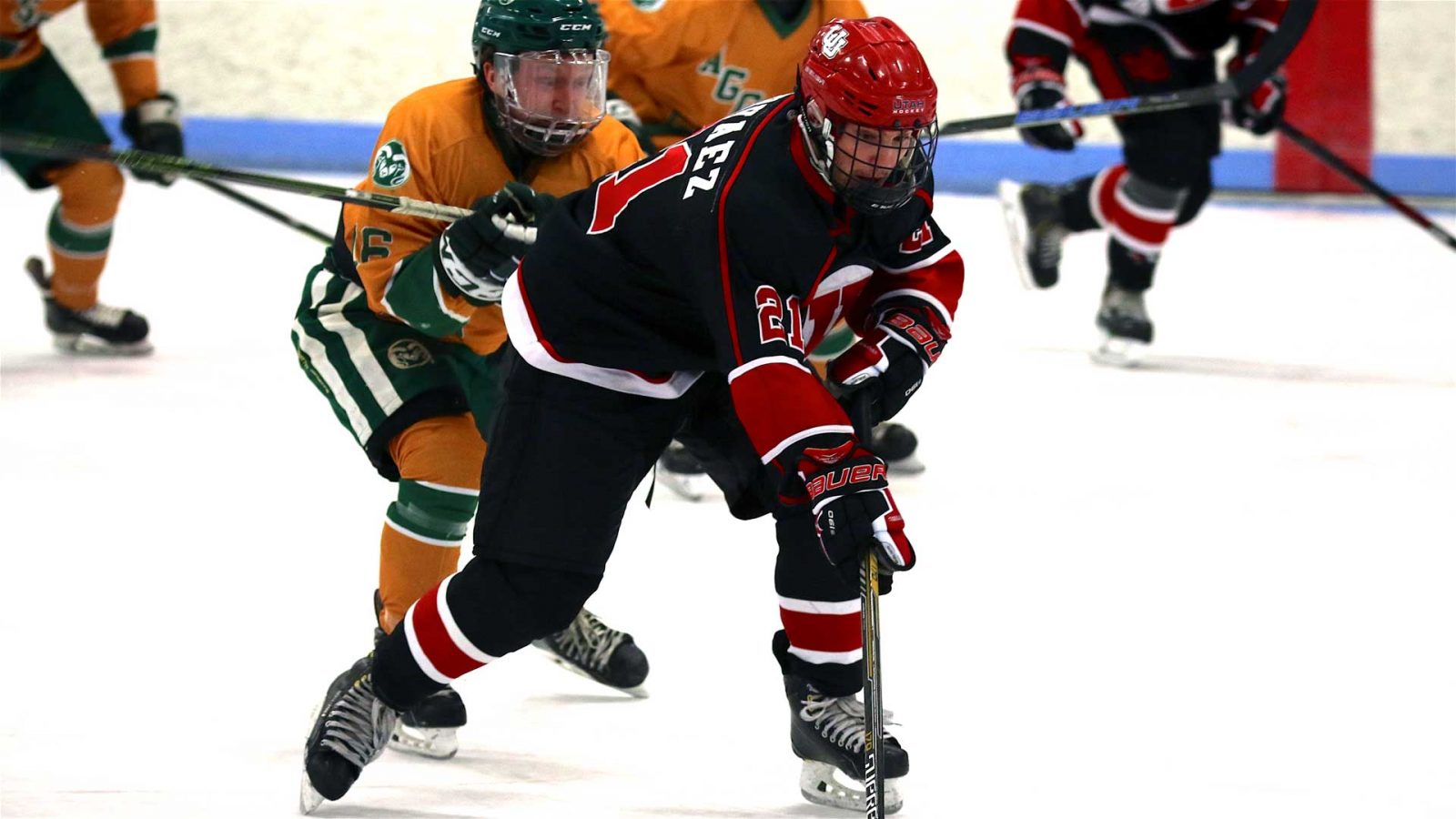 November 10th, 2018
Fort Collins, CO
In an intense game against Colorado State, Utah takes a second loss this weekend.
Utah Goaltender, Jake Slaugh, mentioned, "The defense played really well… it was just little things that got the best of us tonight."
Colorado scored in the first minute of the game at the 19:16 mark. Colorado caught a stray saucer pass right in front of Utah's net at 10:16 and scored making it 2-0 in the first period.
After the intermission break, Utah responded quickly with a goal of there own to pull within one on the scoreboard. With 18:15 on the clock and a Colorado Defenseman in the box David Barnes scored for the second time this weekend assisted by Brett Myer and Wyatt Light.
CSU bounced back quickly, and at 17:01, Colorado State scored on a breakaway. Colorado scored again at 14:10 of the period to put the Rams up 3-1. At 9:09 Joshua Narvaez scored unassisted for Utah with an off-record assist from a Colorado forward. Colorado immediately returned with a goal of their own with 8:41 on the clock. Barnes completed his scoring weekend with a stick-breaking, blue-line, PP goal with 1:16 remaining at the end of the second assisted by Light, again, and Connor Meaney.
In the third period Utah pushed harder offensively with their most shots on goal in this period. With 11 minutes left in the period, Utah even pulled Slaugh, but nothing came of it for either team. The Skatin' Utes were kept at bay while Colorado on PP added another point to the scoreboard at 6:30. Utah also cranked up the penalties in this period which showed in the score.
Goalie Match-up:
Jake Slaugh was put to the test in Utah's net on Saturday night for only his [number] time this season. Slaugh saved 45 shots, many of which included screaming slapshots and quick rebounds. Slaugh maintained energy all three periods, making insane and reaching saves until the final buzzer. Even with the number of goals Colorado had, it could have been a lot worse for Utah if Slaugh had not stepped up the way he did. Slaugh's secret? He said, "I think the secret is gummy bears. Meaney, my boy, hooked me with some… and that was huge." Facing Slaugh was #30 Joseph Morgan. Colorado's goalie made 21 saves from 24 shots, doing half the work Slaugh did in Saturday's game.
The Skatin' Utes will return to the ice on Friday, November 30th in Logan to play Utah State.
---
(#22) Utah 3 (#23) Colorado 6
UTAH
1st: None
2nd: 18:15 – David Barnes (Brett Myer, Wyatt Light) PP
9:09 – Joshua Narvaez (unassisted)
1:16 – David Barnes (Connor Meaney, Wyatt Light)
3rd: None
COLORADO STATE
1st: 19:16 – Ben Joseph (John Tower, Samuel Cote)
10:16 – Max Legere (unassisted)
2nd: 17:01 – Samuel Cote (John Tower)
14:10 – Greyson North (Christopher Nitchen, Kyle Reilly)
8:41 – Max Legere (Kyle Reilly, Christopher Nitchen)
3rd: 6:30 – Christopher Nitchen (Tanner Gillis) PP
---
[ngg src="galleries" ids="19″ display="pro_horizontal_filmstrip"]
---
Trending Now
You may also like