---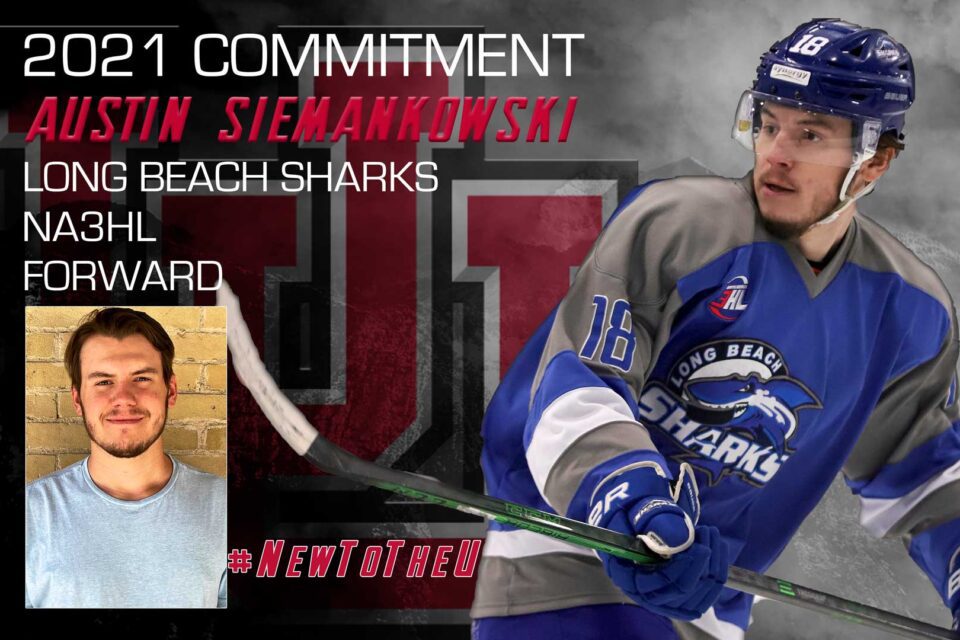 July 15, 2021
Salt Lake City, Utah
University of Utah Hockey has received a commitment from Forward Austin Siemankowski for the upcoming 2021-22 season.
Austin grew up playing hockey in Austin, Texas from the age of 2. He was inspired watching the Austin Ice Bats of the now-defunct Central Hockey League. He played local youth hockey, and then for Cedar Park High School, earning an 'A' on his jersey his senior year. That year Austin also won the High School Hobey Baker Award for the Central Texas High School League, awarded for his character on and off the ice, leadership, as well as quality of play.  
Austin comes to the University of Utah after a season of Juniors with the Long Beach Sharks of the North American 3 Hockey League (NA3HL).
"The team has a strong organization and staff behind it and a good bunch of guys who will be fun to play with. I'll be honest, as I walked around the campus during recruiting weekend I very quickly pictured myself attending and thriving here. I'm looking forward to the next few years here and I can't wait for August," mentioned Siemankowski.
Austin has also developed a love of coaching, attaining his level 2 USA Hockey coaching certification, and he plans to complete level 3 this year. Between high school and junior hockey, he helped coach youth players in the Austin, Texas area and was Assistant Coach at his Alma Mater, Cedar Park High School, helping lead them to two Central Texas Championships. While playing in New York, Austin helped coach with the Sharks youth hockey organization on Long Island. Austin also worked at the rink in Texas and even became the Zamboni driver.
"His size and skill will be a big asset to us in both the offensive and defensive zone. His ability as a two-way player will help our game transition seamlessy and we are very lucky to have him," Men's Division 2 Head Coach Nick Fornelius said.
Utah Hockey would like to welcome Austin and wish him the absolute best in the upcoming season!
---
Trending Now