Miranda De Antunano (G) commits to Utah W1
---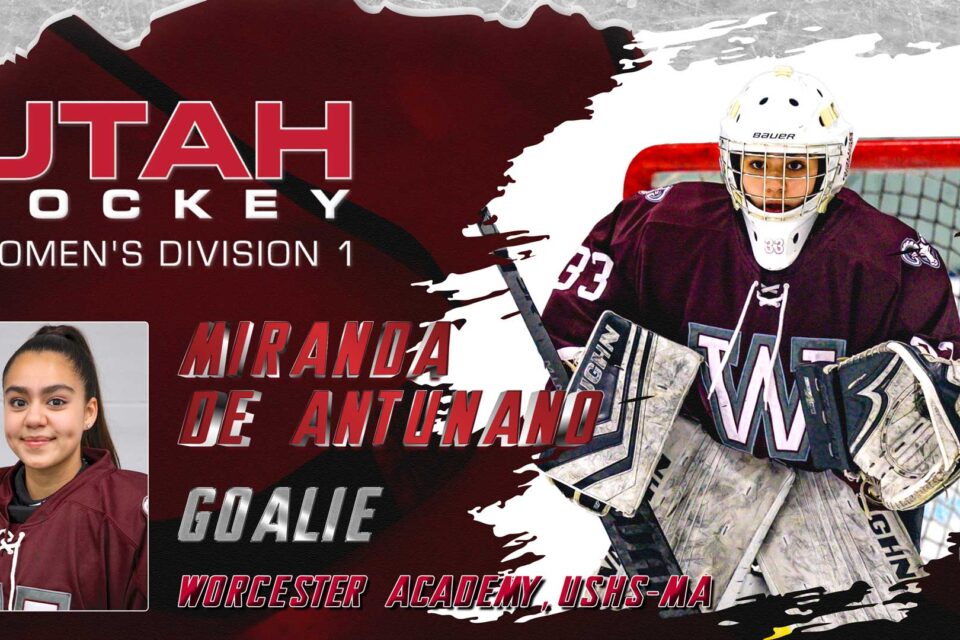 July 8, 2022
Salt Lake City, Utah
University of Utah Women's Division 1 Hockey has received a commitment from Goaltender Miranda De Antunano for the upcoming 2022-23 season.
As a dual citizen of Mexico and the United States, Miranda was born in Irving, Texas. She began skating when she was two years old and developed as a figure skater. When she was five years old, her family moved to Prince Albert, Saskatchewan where she fell in love with the sport of hockey and switched over from figure skating at the age of eight.
At first, her parents were very reluctant to let her play but she was able to convince them. De Antunano was a part of the town's first and only all girls novice team, the Prince Albert Foxes, where they competed against boys teams. When she was ten years old, she decided that she wanted to be a goalie just like her older brother, Marcello.
When she was 14 years old, she began training with Team Mexico's National U18 and Women's teams making her IIHF World Junior Championship debut at the age of 15 and her Women's World Championship debut at the age of 17. At her second World Junior Championships, she was fortunate enough to earn an IIHF Bronze medal on home ice in Mexico City.
In 2018, her family moved to Calgary, Alberta where De Antunano continued playing hockey for various boys tier 1 teams until her first year of Midget when she decided to switch to an all girls league and play for Calgary Fire's Red AA team. Her junior year of high school, they moved back to Texas where she played for the Dallas Stars Elite Girls 17U Tier 1 team. Her senior year, she decided to venture into the prep school hockey world and began playing for the Worcester Academy's Girls Varsity Hockey team.
She recently finished playing in the U18 Women's World Junior Division II Championships in Istanbul, Turkey for Team Mexico. Her team placed Seventh and secured a 29 save shut-out in thier last game against Kazakhstan, for which she earned the Most Valuable Player award. De Antunano is finishing her summer in Vierumaki, Finland for the U18 Women's High Performance Camp, along with girls from around the world that were nominated by their country's ice hockey federations.
"I am excited to continue developing as a hockey player and student at the University of Utah," said De Antunano.
"We are so excited to add Miranda to our goaltending squad. She is a tremendously committed athlete, talented goalie, and the type of competitor her teammates will strive to defend at all costs. I look forward to seeing her in our net," Women's Division 1 Head Coach Braeden Yeo said.
De Antunano is currently undecided in her focus of study at the U.
Utah Hockey would like to welcome Miranda and wish her the absolute best in the upcoming season!
---
Trending Now