Marcello De Antunano (G) commits to Utah M1
---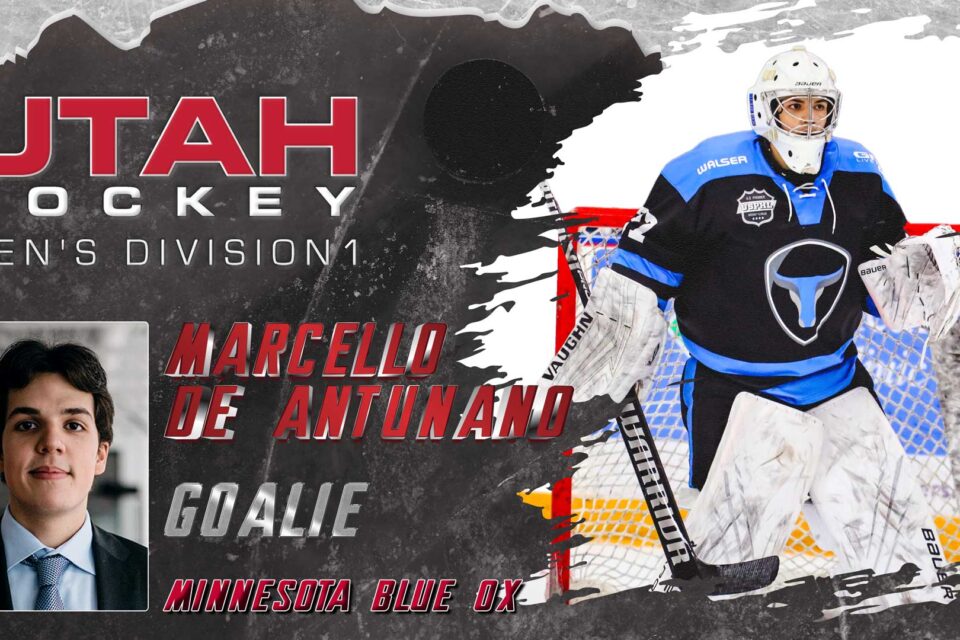 June 10, 2022
Salt Lake City, Utah
University of Utah Men's Division 1 Hockey has received a commitment from Goaltender Marcello De Antunano for the upcoming 2022-23 season.
Marcello was born in Irving, Texas and played minor hockey for the Plano Scotts before moving to Canada when he was 8 years old. He played hockey in Prince Albert, Saskatchewan and Calgary, Alberta and finished off with the Calgary Buffalo Hockey Association (CBHA) U18 AA Rangers where he made the all star team.
Playing for the Rangers under Coach Drake Brown helped catapult De Antunano into Juniors where he played his first year of during the 2019-2020 season for Spokane Braves in the Kootenay International Junior Hockey League (KIJHL). The following year he played for the Toledo Cherokee in the United States Premier Hockey League (USPHL) where he was undefeated with a record of 11-0 and went on to the national championship. De Antunano finished his career in Juniors with the Minnesota Blue Ox having a 16-3-1 record and a return to the national championships where he helped his team get to the elite 8 after finishing #4 in the country.
Hockey has taken De Antunano around the world from Turkey to Iceland to compete for Team Mexico in the IIHF Ice Hockey World Championships at U18, U20 and Men's levels. His first year competing at this level, he brought home a silver medal. Now, moving to Utah, he is "super excited to commit to the University of Utah and start the road to getting that ring as a Ute," says De Antunano.
"We are excited to welcome Marcello to the Utah Hockey family. We had the pleasure of watching him compete this year as a Blue Ox. As a 6"3' goaltender, we were initially impressed with his fundamentals and positioning. As we continued to watch him progress during this past season, it became apparent that his larger frame did not impact his speed and agility and we were sold. We are expecting great things from Marcello in the future as a Ute," Men's Division 1 Head Coach
Morgan Feenie
said.
Outside the rink, he enjoys playing basketball, listening to music and traveling.
De Antunano plans to study Business at the U.
Utah Hockey would like to welcome Marcello and wish him the absolute best in the upcoming season!
---
Trending Now