Utah M2 at home versus Aggies and Cougars
Posted On December 3, 2021
---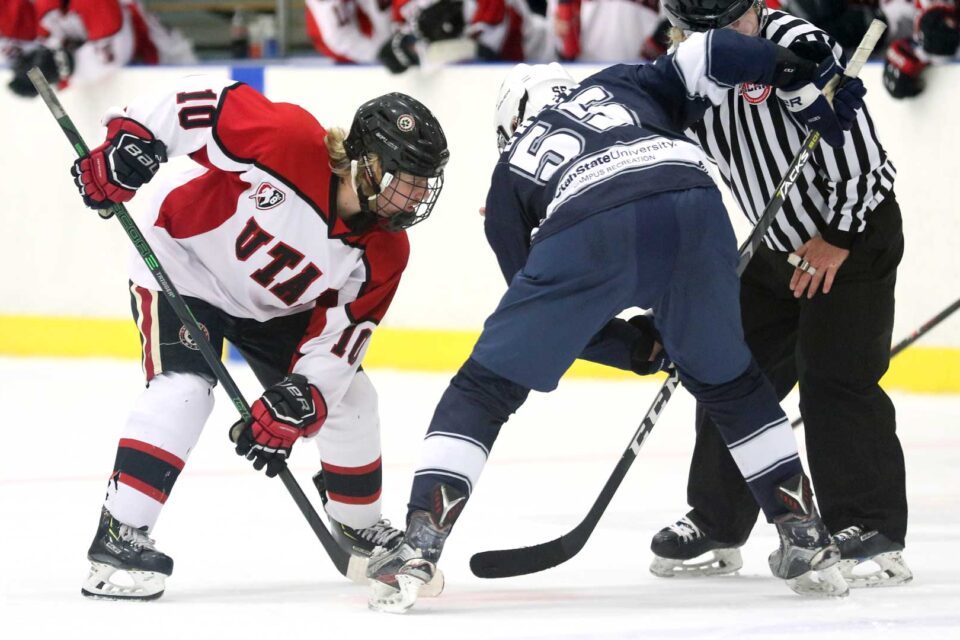 December 3, 2021
Salt Lake City, Utah
The University of Utah Men's Division 2 team recently competed in three straight games in California and are returning to their own ice, this time for yet another pair of in-state showdowns with the Utah State Aggies and BYU Cougars. Utah M2 will face the Aggies on Friday and BYU on Saturday before the winter break.
Utah M2 wrapped up their three-game stretch with a 1-2 record, suffering defeat against California, and splitting the two-game series with San Jose State. However, the Utes are coming off a win against the Spartans in what was an impressive turnaround for the two-game series, as they claimed victory, 7-4, after suffering a 9-3 defeat the night before. Jack Umina, Ethan Kuhrt, Braxton Porter, Austin Tautfest, and Luke Ossola all scored a goal a piece, and Zeke Endy was locked in as he contributed two to the victory effort. Utah is hopeful they can bring the momentum from their win on the road into their home arena against the tough competition they know all too well in USU and BYU. Following the split series with the San Jose Spartans, Utah M2 currently stands at a 4-9 record.
The Utah State University Aggies have continued their strong play this season, most recently competing in the Beehive Showcase, and finishing with an impressive 3-1 record. The Aggies claimed victories over Loyola Marymount, Northern Colorado, and Williston State. They hope to continue to compete at a high level and are confident in ending 2021 on a high note. The BYU Cougars have also maintained high level play as they competed most recently in the similar, but different, Beehive Classic on their home ice. Over the course of November 18th, 19th, and 20th, BYU faced Northern Colorado, Western Washington, and Williston State. The Cougars defeated Northern Colorado, 12-2, and claiming victory against Western Washington in a similarly dominant fashion, 8-1. However, despite taking Williston State to overtime, BYU fell, and the Cougars are looking to get back on track during their trip to Salt Lake City.
All three inter-Utah squads are geared up and dialed in for what should prove to be an intense and hard-fought, yet familiar pair of matches in Salt Lake City. As aforementioned, the Utes will face the Aggies on Friday and the Cougars on Saturday in the Salt Lake City Sports Complex, located at 645 S, Guardsman Way, Salt Lake City, UT 84108. The puck will drop at 4:30 p.m. MST on both days.
---
Trending Now