Utah wins 3-2 on the road against USU
Posted On November 30, 2018
---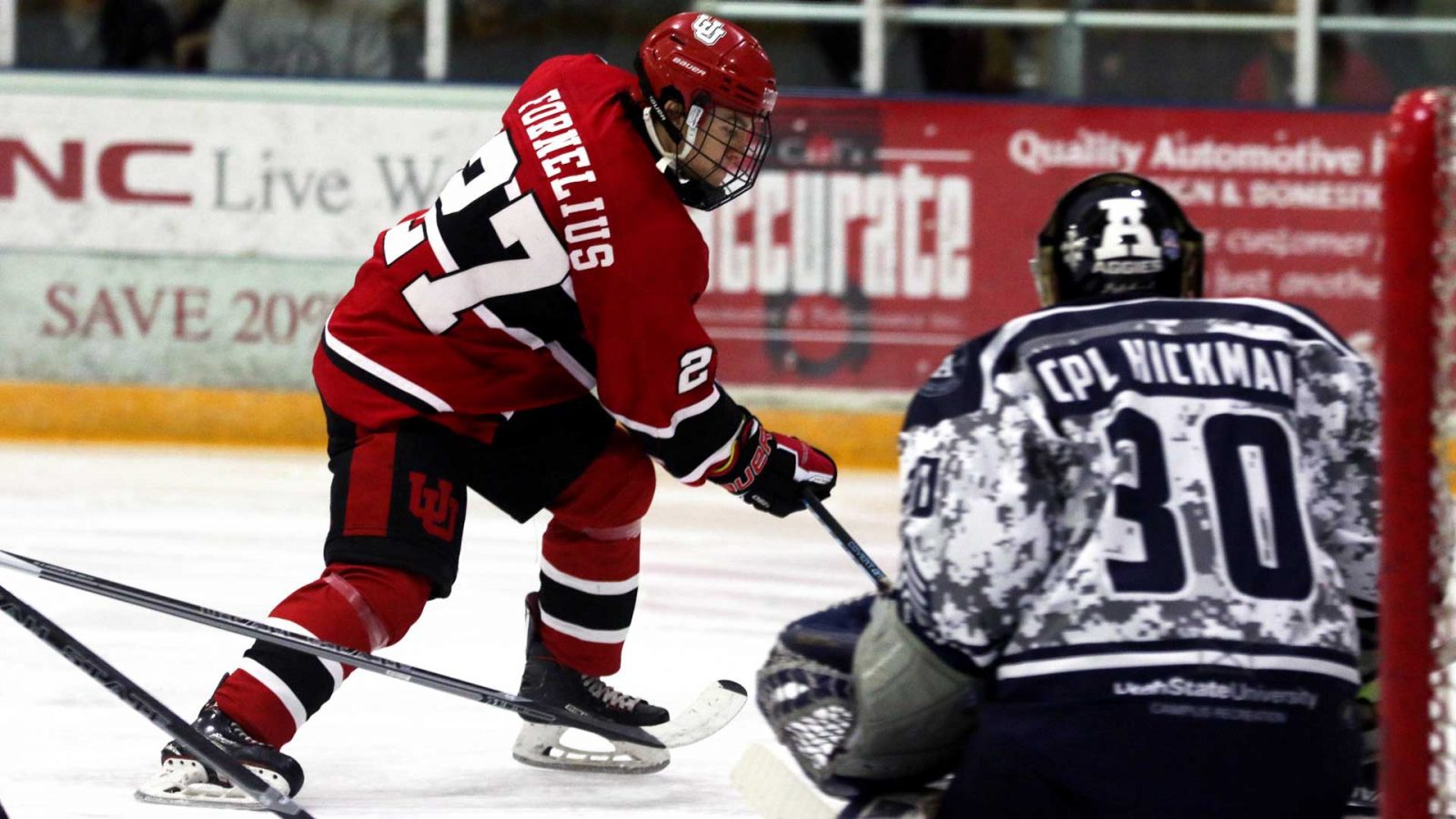 November 30th, 2018
Logan, UT
After the holiday break, Utah Hockey returned with energy and as Zachary Jerome said, "we were all excited to get back to the game."
First period opened up with a Utah goal from rookie Wyatt Light asisted by Connor Meaney with 13:13 on the clock. Utah State answered on the PP at 9:26 and a go ahead goal at 3:36. Period ended with Utah down 2-1, but leading in shots 17-13.
Defensively, Utah struggled to stop Aggie breakaways in the first period resulting in a couple one on ones with Patrick Kasper, all of which were stopped. With four minutes of PK, Utah managed to stay strong on the kill and take advantage of server odd man rushes.
In the second period and with Utah on the PP, Utah Rookie Zachary Jerome found himself in the middle of a scramble for the puck in front of the Aggie's goalie, Colter Pritchard. The puck found Jerome's stick and then the top shelf of the goal at 10:50. Second frame ended with the game tied 2-2, and Utah leading 37 shots to 30.
The Utes came alive in the third and controled the first 8 minutes of the period. Utah then took the lead at 8:29 with a backhand shot from Captain Brett Myer that landed neatly in the goal. The assist was credited to Nick Fornelius. Both teams showed more discipline throughout the third period as the penalty box remained empty for the entirety.
The Aggies home advantage included the rink bursting with a near sell-out crowd. But Jerome seemed to think that the loud crowd benefited Utah as well. "I think it helped us more than anything. It gave us a reason to score so we didn't have to listen to them all game."
Goalie Match-up:
Patrick Kasper was in the net for Utah Friday night with 46 saves on 48 shots. Kasper saved multiple breakaway shots on goal in the first that could have easily turned into goals.The Aggies put veteran Colter Pritchard in the net who made 41 saves. The shots on goal were almost even between the two teams, and both goalies brought their best on Friday.
The Skatin' Utes and Aggies will meet again in Salt Lake on Saturday night at 7:30 p.m.
---
Utah 3 – Utah State 2
Utah
1st: 13:13 – Wyatt Light (Connor Meaney)
2nd: 10:50 – Zachary Jerome (Steven Pawlow, Brett Myer) PP
3rd: 8:29 – Brett Myer (Nick Fornelius)
Utah State
1st: 9:26 – Josh Kerkvliet (Tomas Maciunas, Johnathan Ball) PP
3:36 – Chris Cutshall (Drew Decker)
2nd: None
3rd: None
---
[ngg src="galleries" ids="20″ display="pro_horizontal_filmstrip"]
---
Trending Now
You may also like