Utah loses in overtime to Utah State
Posted On December 1, 2018
---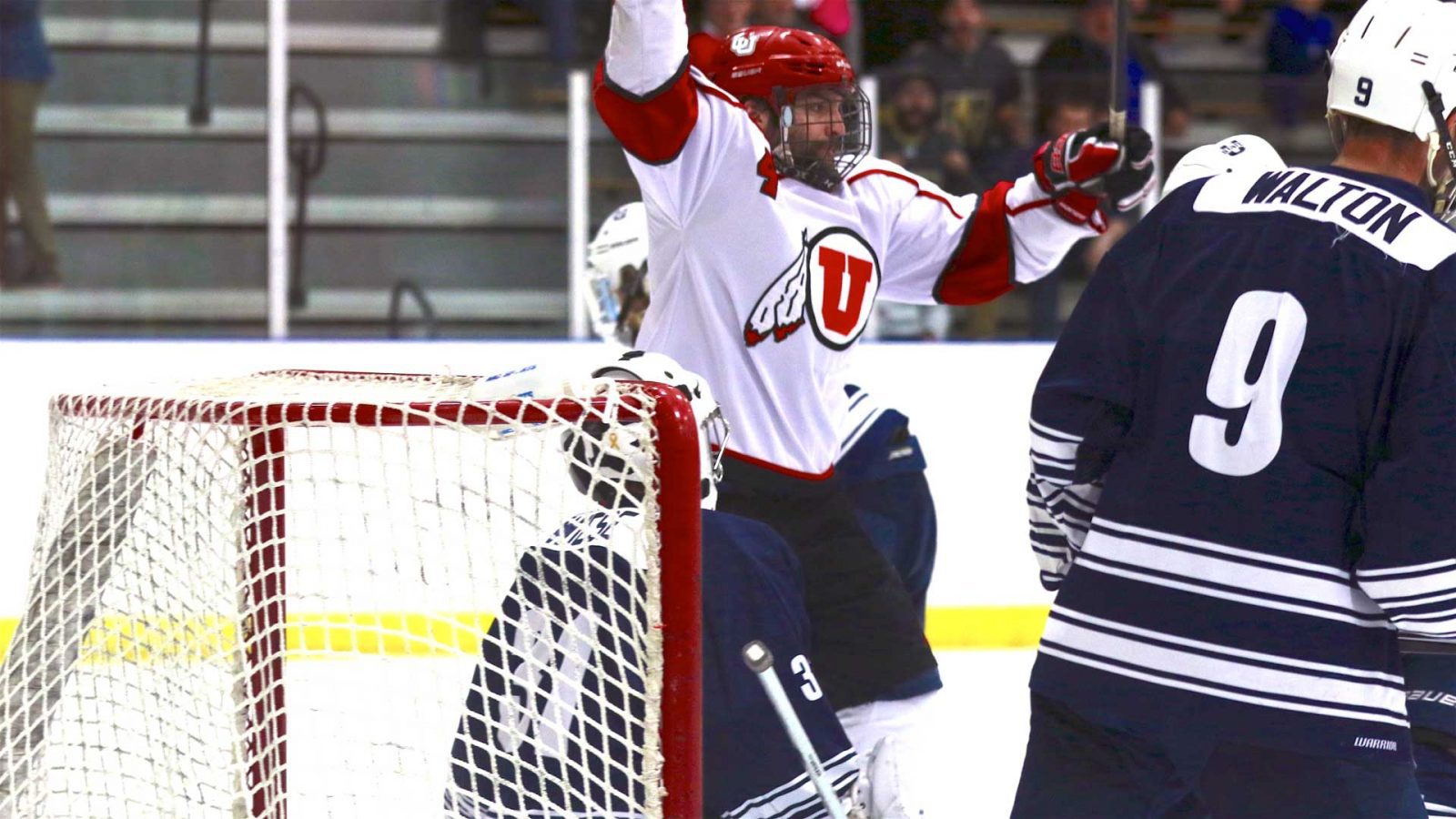 December 1st, 2018
Salt Lake City, UT
Saturday night was Utah Hockey's 6th annual Teddy Bear Toss. Fans had the opportunity to throw the stuffed animals onto the ice after Utah's first goal, but the celebration did not last. Utah lost 4-5 in overtime.
Utah scored first at the end of the 1st period with 3:16 on the clock. Andrew Urch placed himself right next to Utah State's goalie, found the puck from Nick Fornelius, and shot. Reed Hunter picked up the rebound at the backdoor and with Wiese out of the way had a clear path into the net. Less than a minute later, Darren Banks, assisted by Owen Leberknight, found the net too with a wrap-around goal at 2:30. Utah State followed up less than a second before the buzzer with their own goal.
Utah State found the puck early in the second period scoring at 18:40, sliding off of Patrick Kasper's leg and into the net. At 14:44 Utah State scored again, taking the lead.
The rest of the period both teams caught the penalty bug, especially Utah State with 4 penalties. Utah was given the chance to tie it up, but nothing came out of the multiples minutes of PP. A Utah State defense was ejected from the game and given a major penalty for a head shot early in the third period. This time Utah took advantage of their 5 minutes of PP. First, Brett Myer whipped one, unassisted, from the blue line at 15:12 with 1:59 left on the PP. With 14:11 and :59 left on the clocks, Banks shot a wrap-around goal, again, tying the game up. After the game Banks mentioned, "in the first and second we were running around so we didn't have anyone in front, so we just went back to what we usually do."
Tied 4-4 the game went into overtime: 3 on 3 for 5 minutes with sudden death. In less than a minute Utah State saw an opportunity to score and took it ending the game.
Banks mentioned, "Every week we practice 3 on 3. We had a breakdown were both guys rushed the puck, we had a two on one. They made a good shot. I mean, that's the game."
Goalie Match-up:
Patrick Kasper faced Utah State again on Saturday, but Ethan Wiese replaced Pritchard for Utah State. Kasper had 28 saves from 33 shots on goal. Wiese saved 39 of the 43 shots.
---
Utah 4 – Utah State 5
Utah:
1st:
3:16 – Reed Hunter (Andrew Urch, Nick Fornelius)
2:30 – Darren Banks (Owen Lerberknight)
2nd: None
3rd:
15:12 – Brett Myer (unassisted) PP
14:11 – Darren Banks (Connor Meaney, Nick Fornelius) PP
OT: None
Utah State:
1st:
00:6 – Drew Decker (Chris Cutshall, Brandon Blauer) PP
2nd:
18:40 – Dalton LAllier (unassisted)
14:44 – Keegan O'Brian (Trace Farr, Gavin Lubin)
3rd:
18:57 – Chris Cutshall (Tomas Maciunas)
OT:
4:11 – Drew Decker (Chris Cutshall, Ball)
---
[ngg src="galleries" ids="21″ display="pro_horizontal_filmstrip" order_by="imagedate"]
---
You may also like