---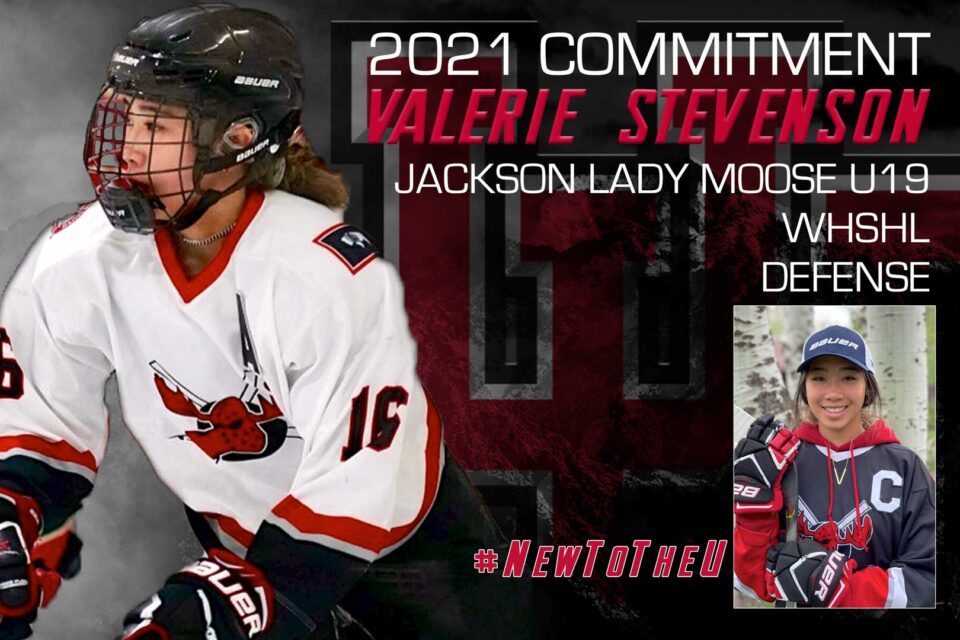 June 4, 2021
Salt Lake City, Utah
University of Utah Hockey has received a commitment from Defense Valerie Stevenson for the upcoming 2021-22 season.
Valerie was born in Jackson Hole, Wyoming, where she grew up figure skating. She moved to Idaho Falls, Idaho, when she was in 2nd grade and started playing co-ed hockey with her brother. She fell in love with the sport and continued to play with the boys until she was 12 years old when she started playing girls hockey.
In the summer of 7th grade, she moved back to Jackson Hole, where she attended Jackson Hole High School and continued playing girls hockey. As the assistant captain of the Jackson Lady Moose her freshman year, she helped lead the team to the B State Championships victory. During her junior and senior years, she captained the team, leading them to win the A State Championships 2 years in a row. She received all-state her sophomore, junior and senior year as a Defenseman. She also played with the U19 Wyoming Select team her junior year.
"The University of Utah has always been my dream school and I am beyond excited to continue my hockey career at the U," says Valerie.
In addition to hockey, Stevenson likes to ski and snowboard in the winter when she isn't on the ice. During the spring and summer, she plays tennis, where she earned all-state during her senior year.
"We are thrilled to have Valerie on our team. She is really smart defensively and has a certain poise and grace with the puck that you don't often see. Every time she gets possession, she does something creative and makes something happen for her team. Not to mention, she has a wicked shot," Women's Division 1 Head Coach Braeden Yeo said.
Stevenson plans to study Finance at the U.
Utah Hockey would like to welcome Valerie and wish her the absolute best in the upcoming season!
---
Trending Now