Utah M1 open season versus Arizona
Posted On September 30, 2021
---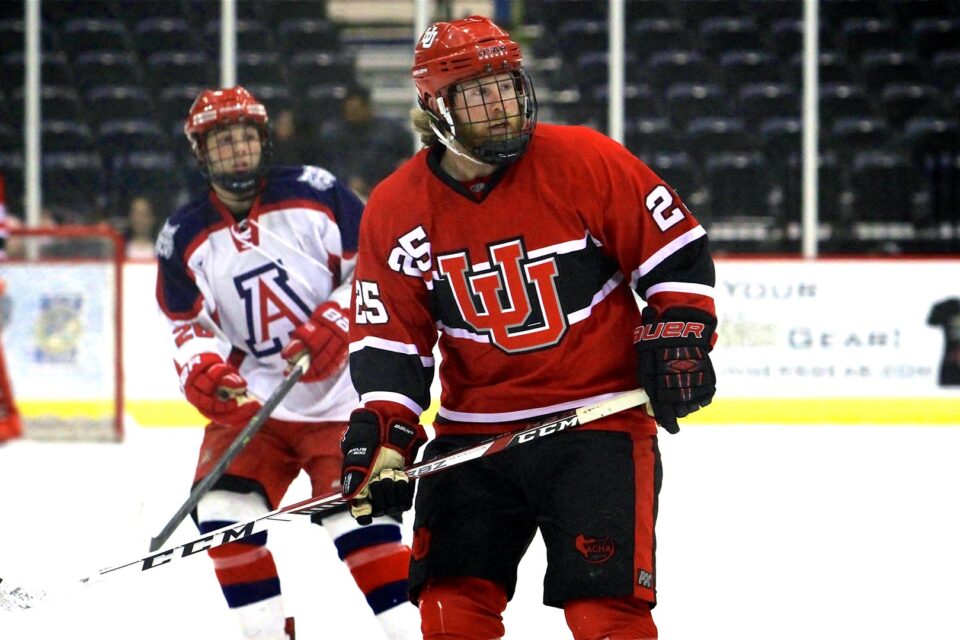 September 30, 2021
Salt Lake City, Utah
The University of Utah Men's Division 1 season will officially begin with two home opener matches against the Arizona Wildcats. The full weekend will serve as the first contests of the season for these squads. This is also the first weekend for Utah as full members of the Western Collegiate Hockey League (WCHL)
Both programs are chomping at the bit to hit the ice, following the cancellation of the 2020 season due to the COVID-19 pandemic. Despite being away from fiery competition for well over a year, the progression of the programs from a recruiting and staff standpoint has not been hindered.
The Skatin' Utes front office received commitments from many new and skillful recruits during their extended off-season, as well as embraced a coaching staff revamp that brings significant coaching experience and competitive intensity for the 2021-2022 season. Utah M1 Hockey, as of October 2020, appointed five new coaches including Assistant Coach Rob Feenie, Defensive Coach Chris Hawk, and Associate Coach George Chalos. However, perhaps the most notable addition to the program, is Head Coach Morgan Feenie.
Following the retirement of former Head Coach Beau Bertagnolli, which took place after the 2019-2020 season, the Skatin' Utes began the search for a coach who could bring experience and intensity to Utah Hockey's M1 team, and found the very thing in Coach Feenie, a USA Hockey Level 4 certified coach.
Arizona Wildcat Hockey Coach, Chad Berman, will be returning for another season in which Arizona hopes to continue to see improvement throughout the program. Under Coach Berman, the Wildcats have achieved an overall record of 117-84-6, coming off a 23-6-1 season in 2019-2020. Arizona's program has seen noteworthy improvement since Berman, a 2019-2020 ACHA Coach of the Year Finalist, took over. Since his first season in 2014-2015, the Wildcats climbed from 25th to 8th in the national rankings, and are hoping the development continues.
Both teams have prepared in depth through practice and training camp, and expect an exceptional, well-fought game. The Friday-Saturday stretch will take place at Salt Lake City Sports Complex, located at 645 S, Guardsman Way, Salt Lake City, UT 84108. Puck drops at 7:30 p.m. MST on both days, succeeding the M2 matches against Weber State and Utah State. Tickets are still available here.
---
Trending Now