---
March 4, 2020
Salt Lake City, Utah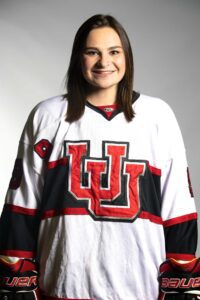 Utah Women's forward, Grace Cruikshank, has earned 2nd Team All-Western Women's Collegiate Hockey League award at the 2020 WWCHL Championship Tournament this past weekend. As a freshman from Minnetonka, Minnesota, Grace joined the University of Utah in its inaugural season. She led the team in points; scoring 16 goals and 9 assists. Her offensive production puts her tied at 35th in the Nation with 25 points in just 21 games.
"From my first interaction with Cruikshank, I knew she was going to move mountains both on and off the ice. This accomplishment exemplifies all that she has been able to achieve during her first year at Utah Hockey and I couldn't be more proud of her," said Head Coach Morgan Marietti.
The 2 All-WWCHL Teams are voted on by the head coaches from the member teams including: Arizona State University, Colorado State University, Grand Canyon University, University of Colorado, University of Denver, and the University of Utah.
The entire Utah Hockey organization would like to congratulate Grace on a this well deserved award!
---
Trending Now
You may also like