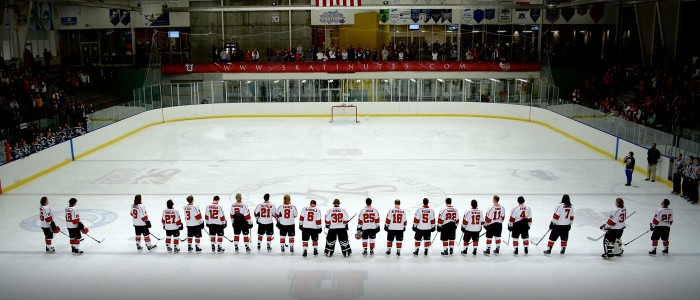 August 14, 2017
Salt Lake City, UT
The 2017-18 ACHA Hockey season is almost here and the University of Utah Skatin' Utes have announced their schedule for the upcoming season.
The Utes will play 31 regular season games during the 2017-18 season as the team begins its second season at the ACHA Division 1 level. 26 of the 31 games will be against Division 1 opponents – up from 17 games last season.
The Utes will play just five games against Division II teams, two against Weber State and three against Utah State.
The regular season will once again begin on the road for Utah as they'll take on Weber State on September 16th.
The Utes will play an exhibition game against the Utah Outliers from the WSHL on September 22nd before their home opener one day later, which is against Utah State on September 23rd. The 3rd Annual Alumni Game will kick off the Home Opening Celebration on the 23rd as well at 4PM.
The Utes have 15 games at home this season as they'll welcome local teams Weber State and Utah State to the Utah Ice Sheet. Utah will also welcome Division I power Minot State on February 9th and 10th, who made it to the final four of last season's Nationals tournament and went 11 straight weeks as the #1 team at the D1 level last year.
Several other Division 1 teams will make their first ever trips to Salt Lake City as well, including Alabama, Arizona, and Canisius College. New Division 1 team UNLV will return to Salt Lake this season as well along with Jamestown, who played Utah at home last season. The Utes will play Jamestown in Park City on October 20th and 21st.
Utah's road schedule has several highlights as well, as the Utes will head to Colorado at the end of September for a showcase featuring Colorado, Colorado State, and Eastern Michigan. The Utes will also be traveling to two new cities, as they'll head to Tuscaloosa, AL to take on Alabama October 12th and 13th and Norman, OK to take on Oklahoma on February 17th and 18th. Utah will also makes trips to UNLV, Minot State, Jamestown, and Arizona.
The Utes are in their 11th season in the ACHA and will be looking to make it to the ACHA Division 1 National Tournament for the first time since moving from Divison 2, which will take place March 8-13 in Columbus, OH.
For the full schedule, click here.
Season Tickets go on sale on August 21, 2017.