September 21, 2017
Salt Lake City
Utah Hockey is thrilled to announce its new partnership with the University Campus Store for the 2017-18 Season and beyond. This exciting addition to the Utah Hockey family will expand the availability of hockey merchandise to Utah Red Zone and the Campus Store's retail locations, as well as bring the epic selection of University of Utah gear from the Campus Store to all home games.
"Our fans deserve the quality and selection that the University Campus Store provides and we couldn't be more excited to forge this partnership," said Utah Hockey President & GM AJ Boldan. "In addition to carrying our best selling jerseys and hats, the team at the Red Zone will help us find new gear our fans will love!"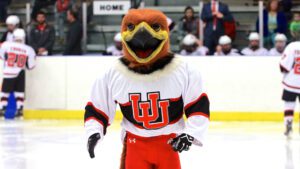 The team, established in 2006, has grown to compete at the ACHA Division 1 level and currently consists of student athletes from 14 different states across the country. In addition to success on the ice, the annual team GPA is over 3.1 and more than a third of the team is on the University of Utah Dean's List every semester.
"It's a welcome opportunity for the Red Zone to collaborate with a program as up-and-coming as Utah Hockey," said Dan Archer, Director of the University Campus Store. "There's a growing market of hockey fans on campus and we want to serve that community by elevating the selection of Skatin' Utes merchandise that those fans want to support their team."
The Red Zone debuts this Friday, September 22nd, and will be at every Utah Hockey home game this season, all held at the Salt Lake City Sports Complex.
"We look forward to building a relationship that will bring new fans to the store and help support the growth of the Utah Hockey program, which is one to watch this season" Archer said.
Adult, Faculty/Staff, and Student Season tickets are still available for purchase. Please use this link for Single Game Tickets.