---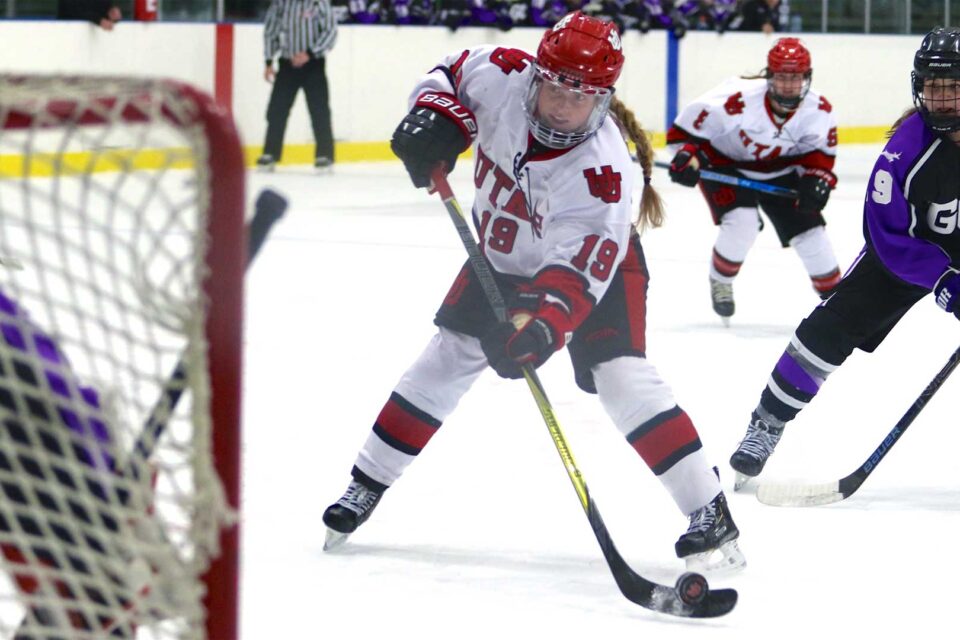 November 20, 2021
Phoenix, Arizona
The University of Utah Women's Division 1 team are headed to Arizona, joining the Men's Division 1 squad in competition against Grand Canyon University. The women's team will play a two-game series against the Antelopes. The Skatin' Utes are coming off a series at home against CU Boulder, and will return home near the end of January to play six straight at home, preceding the WWCHL Championships.
Utah's W1 squad recently completed a two-game series at home against the University of Colorado, and the two squads split the series at a game a piece. The Utes claimed victory in the closely-contested first showing, 3-2. The Utes' own Halle Hansen put up a two goals in the win, and Katie Plyer contributed a goal and an assist. However, perhaps the "unsung hero" of the first game was Gracie Capps, who stamped her name on every scoring possession, racking up three assists on the Utes' three goals. The following night, Capps and Plyer each contributed a goal a piece, alongside Alexandra Bye, but the Utes came up short, 4-3. The Skatin' Utes' women's team will look to improve upon their 3-4 season record as they travel to Arizona to face GCU in hostile territory.
The GCU Antelopes have struggled on the road but have been strong at home, currently sitting at a 3-5-3. Their most recent battle on home ice was not much of a battle at all, as they dominated Air Force in an astonishing 14-0 victory. GCU's women's team, just like GCU's Men's Division 1 squad, is currently undefeated at home, having also swept Colorado State University just before their impressive showing against Air Force. The Antelopes will look to build upon their home winning streak, as they welcome the talented Skatin' Utes into their arena.
The University of Utah and Grand Canyon University have prepared their programs for what should be a couple of hard-fought series, and are looking to continue to improve as the season progresses. The squads are geared up and ready to hit the ice following their regular practice and adjustments, and the series should prove to be massively competitive. The two-game weekend series will take place at AZ Ice Arcadia, 3853 E Thomas Rd, Phoenix, AZ 85018. The puck will drop at 7:00 p.m. on Saturday, and 12:00 p.m. MST on Sunday.
Related Images:
---