2023 ACHA Regional Tournament Details Released
Posted On January 17, 2023
---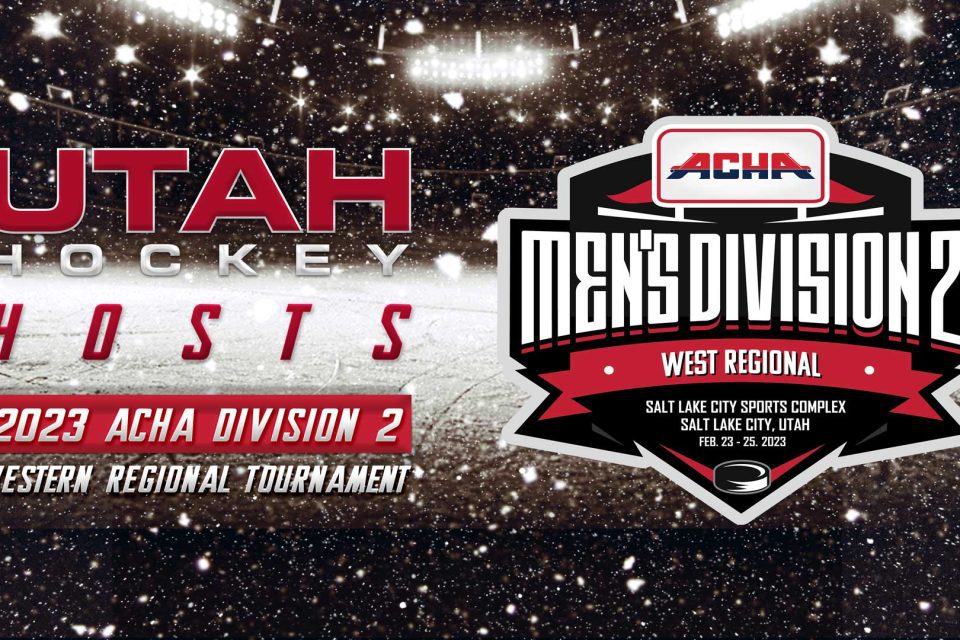 January 17, 2023
Salt Lake City, Utah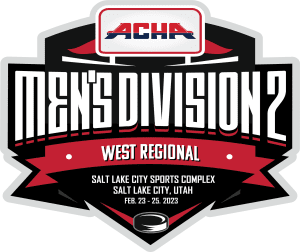 Utah Hockey is proud to announce the full schedule and ticketing information for the 2023 American Collegiate Hockey Association Men's Division 2 Regional Tournament, which will bring the very best teams of the West within Men's Division 2 hockey to the State of Sport!
The tournament will be hosted by the University of Utah and the Salt Lake City Sports Complex in Salt Lake City, Utah from February 23-25, 2023.
Utah Hockey has a storied history with hosting ACHA events including the 2013 ACHA Regional Tournament, 2014 PAC-8 Championships, 2015 Wasatch Cup, 2015 ACHA Division 2 National Tournament, 2020 Wasatch Cup, and the 2020 Women's Western Collegiate Hockey League Championships.
The 2023 ACHA Men's Division 2 Regional Tournament format is unchanged from previous seasons. Each region (Central, Northeast, Southeast, West) sends four teams to the 2023 ACHA National Championships in Boston, Massachusetts.
Following the release of the final Men's Division 2 regular season rankings, the top two seeds from each region will receive an automatic berth to the 2023 ACHA National Championships and bypass the regional process. The remaining two teams per region going to the 2023 ACHA National Championships will be decided at the respective Regional Tournament.
---
Ticketing Information
The 2023 ACHA Regional Tournament Ticket package is only available online. Purchase today and get all 10 ACHA Regional Games for 50% off of retail. Individual game tickets will be available online and at the door.


We're sorry, but all tickets sales have ended because the event is expired.
---
Broadcast Information
All broadcasts will be on HockeyTV.
---
Format
Each Regional Tournament will consist of 12 teams. Teams seeded #3 through #10 will receive an invitation to their respective Regional. Teams seeded #11 through #14 will be filled by conference auto bids. In the event that any of the conference auto bids are not filled (i.e., team has already qualified, unable to accept bid, less than four eligible conferences, etc.), the position(s) in the Regional will be filled by the next highest ranked team(s) within that Region as an At-Large bid.
---
Complete Schedule
Thursday, Feb 23rd, 2023:
Game 1 (4:00PM): #14 TBD VS #7 TBD
Game 2 (4:30PM): #13 TBD vs #8 TBD
Game 3 (7:00PM): #11 TBD VS #10 TBD
Game 4 (7:30PM): #12 TBD VS #9 TBD
Friday, Feb 24th, 2023:
Game 5 (4:00PM): #Lowest Seed VS #4 TBD
Game 6 (4:30PM): #2nd Lowest Seed VS #5 TBD
Game 7 (7:00PM): #3rd Lowest Seed VS #3 TBD
Game 8 (7:30PM): #4th Lowest Seed VS #6 TBD
Saturday, Feb 25th, 2023:
Game 9 (1:30PM): 2nd Lowest Remaining Seed vs 2nd Highest Remaining Seed (Home Team)
Game 10 (4:30PM): Lowest Remaining Seed vs Highest Remaining Seed (Home Team)
Overtime format for all games:(if necessary)
1. Intermission with an ice make
2. Teams will switch ends (long change)
3. 20 minute 5 on 5 sudden death overtime period
4. If no goal is scored, there will be an intermission with an ice make
5. Teams will switch ends (short change)
6. Another 20 minute 5 on 5 sudden death overtime period
7. Repeat steps 1 through 5 until a goal is score
---
Facilities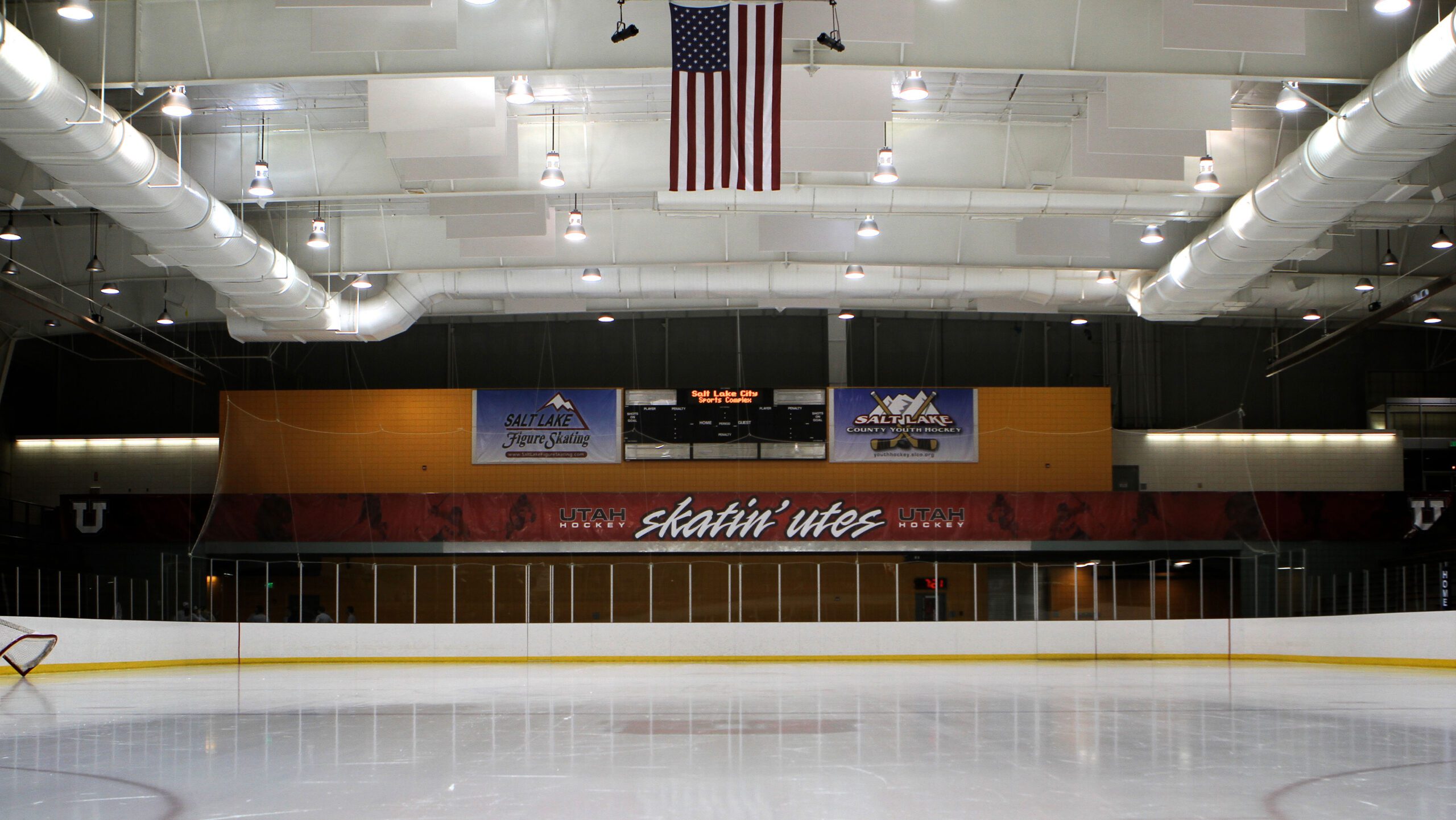 University of Utah Hockey calls the Utah Ice Sheet at the Salt Lake City Sports Complex Home.
Our two Olympic Ice Sheets were the official training venue for the 2002 Winter Olympics and the game rink has a capacity for 2500 Hockey Fans. There are eight locker rooms on site along with two concession stands, a pro shop, and the University Hospital just 1.9 miles from the rink.
Salt Lake City Sports Complex
645 South Guardsman Way
Salt Lake City, Utah 84112
Location
Venue Phone: 385-468-1925
Address:
645 South Guardsman Way (1580 East)
,
Salt Lake City
,
Utah
,
84112
,
United States
---
Accommodations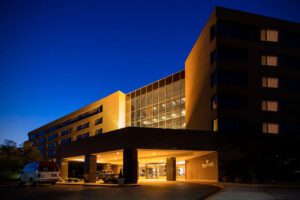 Marriott University Park is a newly renovated hotel with gorgeous mountain views, full modern amenities and an excellent location adjacent to the University of Utah, our Research Park hotel provides smart, stylish lodging for business and leisure travelers alike. Rest easy in brand new, comfortable rooms with luxurious bedding and take advantage of numerous modern amenities, including a full service Starbucks, a complimentary local shuttle, free parking. Situated just 10 minutes from downtown in a quiet area near hundreds of businesses, our Salt Lake City hotel offers easy access to the Temple Square, Mormon Tabernacle Choir, Convention Center, and just 1.4 miles from the Salt Lake City Sports Complex. In addition, we are just a short walk from TRAX, the downtown above-ground trolley, and world-class skiing is just 25 minutes away. Contact our friendly hospitality staff for reservations or additional information.
Reservations can be made by calling 801-581-1000. Remember to mention University of Utah Hockey to get preferred pricing.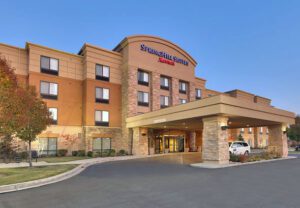 SpringHill Suites Salt Lake
blends modern luxury with spacious comfort, our Newly Renovated downtown location is the perfect hub for your Salt Lake City experience. As winner of the Diamond Hotel Award, our all-suite property focuses on providing you with more living space in bustling downtown Salt Lake. Our convenient location is perfect for any Salt Lake activity like attending a conference at the Salt Palace Convention Center, catching a Jazz game at the Energy Solutions Arena, watching a University of Utah Hockey Game, or enjoying historic Temple Square. Plus, we're just a short drive from area ski resorts and provide complimentary ski storage. With a living room, ergonomic workspace, free Wi-Fi, microwave, coffee maker and fridge, our rooms will help you peacefully feel right at home. Perfect for every kind of traveler, guests enjoy our indoor pool, whirlpool spa, fitness center and never leave hungry with our complimentary breakfast.
Reservations can be made by calling 801-238-3000. Remember to mention University of Utah Hockey to get preferred pricing.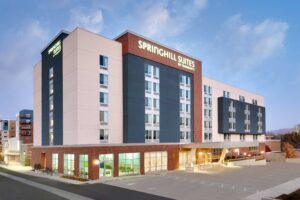 Whether you're traveling for business or pleasure, SpringHill Suites by Marriott Salt Lake City Sugar House is a breath of fresh air while working or enjoying a getaway in the Salt Lake City area. Our all-suite hotel seamlessly blends design, functionality and the modern amenities you need to stay refreshed and focused – all at an affordable price. Spacious suites and bright lobbies offer flexible spaces perfect for working or relaxing. Located in the trendy neighborhood of Sugar House, we're centered in a vibrant scene of restaurants, open parks, trails and galleries, each with its own unique local history overlooking the soaring ridge lines of the Wasatch Mountains. We've adapted meeting space compliant with social distancing guidelines and our complimentary breakfast options have been modified with you in mind. The well-being and health of our guests and associates are our top priorities. Whatever the occasion, we're ready to welcome you. Reservations can be made by calling 385-297-8305. Remember to mention University of Utah Hockey to get preferred pricing.
---
---