Skatin' Utes M1 match with Sooners for Senior Weekend
Posted On February 11, 2022
---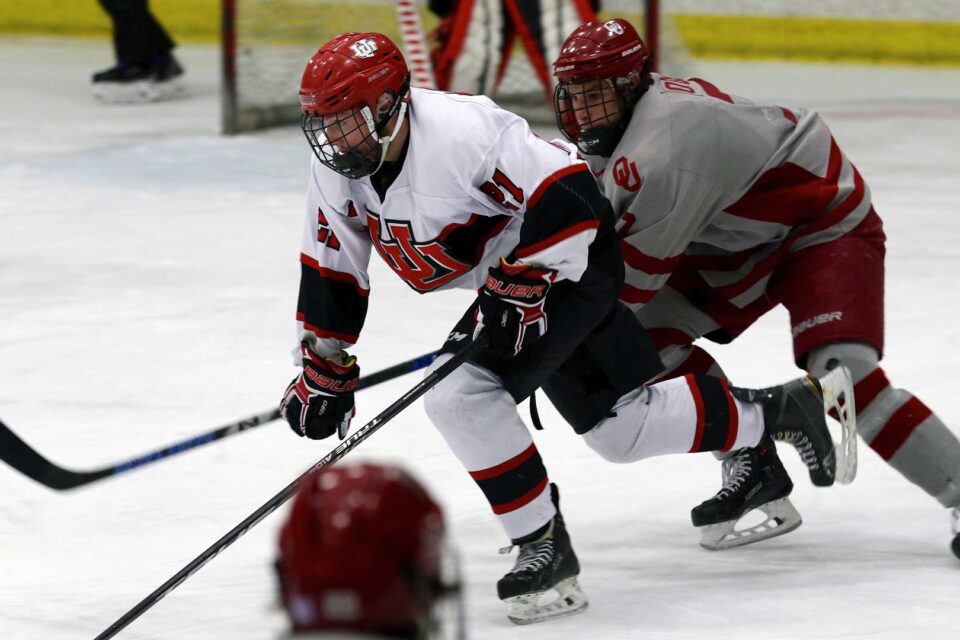 February 11, 2022
Salt Lake City, Utah
Utah Hockey Division 1 Senior Weekend has arrived and for the Men's D1 squad that means a two-game series against the University of Oklahoma Sooners. The series will be the last for the M1 team at home, as next weekend they will make their final stop of the regular season in Fort Collins, Colorado for a weekend series against Colorado State.
The Utes M1 have been on fire recently and are looking to close the regular season out strong.
The Skatin' Utes have established a hot streak as o, claiming victory in all of their last six matches, including weekend sweeps of the University of Oregon, the University of Colorado, and most recently, Grand Canyon University. Utah Hockey M1 controlled the GCU Antelopes in both games of the series, adding to the win column by way of a 7-3 victory in Game 1, and a 5-3 victory in Game 2.
The Utes' own Landon Langenbrunner and Benji Mickel contributed a goal a piece in both games, with Mickel also contributing 5 assists across the two-game series. However, perhaps the MVP of the weekend was none other than Che Landikusic, who scored 4 goals for the Utes over the weekend, including the dagger at 18:54 in the 3rd that put Game 2 out of reach for the Antelopes. Following their win streak of six straight, Utah M1 currently stands at a 12-7-3 record.
The Oklahoma Sooners, who have suffered defeat in four of their last six games, currently sit at a 10-17-1 record. Within those six games, the Sooners were victims of weekend sweeps by the hands of Missouri State University and the Arizona State Sun Devils, with the ASU losses occurring on their home ice. Now they will look to get back on track and contribute to finishing their regular season on a high note in Salt Lake City. Oklahoma knows if they can steal the series on the road; they can shake up Utah M1's momentum down the stretch.
Utah M1 and Oklahoma M1 are approaching the end of the regular season and understand the importance of displaying their highest level of play with the postseason in clear view. The highly anticipated two-game weekend series will take place at the SLCSC, located at 645 S, Guardsman Way, Salt Lake City, UT 84108. The senior weekend games will be on Friday and Saturday, with the puck will dropping at 7:30 p.m. MST. on both days.
---
Trending Now