2022 Men's Division 1 Roster announced
Posted On September 29, 2022
---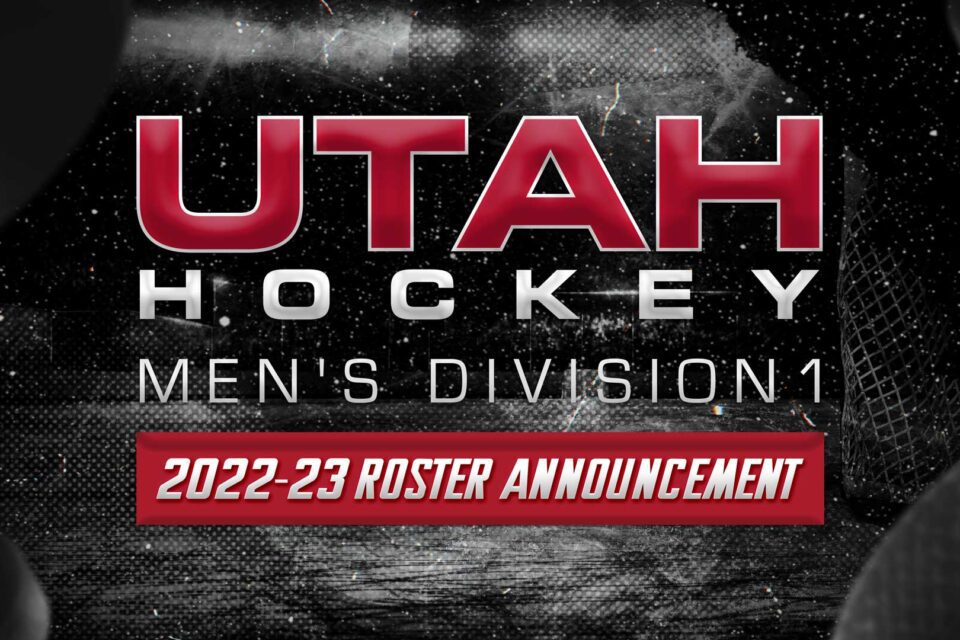 The Utah Hockey Men's Division 1 program has released their roster for the upcoming season, featuring many returning faces from last year and some newcomers to the team in 2022-23.
The M1 team has nine forwards and five defensemen returning from last season as well as one goaltender. The entire roster for Men's Division 1 includes 27 players: 16 forwards, 8 defensemen and 3 goalies.
The 2022-2023 Men's Division 1 Roster
The Forwards:
#7: Bryce Miller
#9: Luke Moeller
#10: Garrett Jackson
#11: Che Landikusic
#13: Wyatt Light
#14: Michael Urtis
#15: Landon Langenbrunner
#16: Beau Slater
#17: Jules Donovan
#18: Evan Richards
#19: Trent Gephart
#21: Jett Arminen
#23: Mckay Pond
#24: Ethan Light
#27: Erik Gibboney
#29: Benjamin Mickel
The Defensemen:
#3: Konrad Clements
#4: Cole Musick
#5: Dylan Dix
#6: Logan Jackson
#8: Sam Brickley
#22: Kinyon Carter
#26: Grant Kawamoto
#28: Ethan Noonan
The Goalies:
#30: Landon Anderson
#31: Joseph Greilich
#32: Rhetton Kimmel
The Utah Hockey Men's Division 1 program kicks off their season on Saturday, Sept. 29 against WCHL rival Grand Canyon University. The Skatin' Utes are 3-1-0 against the Lopes all time.
Last season, the M1 team finished the season ranked #20 in the nation with a record of 14-8-4. This season they look to make their first trip to the ACHA National Tournament since moving up from the Division 2 rank.
The M1 coaching staff is maintained since last season and includes Head Coach Morgan Feenie, Assistant Coach Rob Feenie, Defensive Coach Chris Hawk, Associate Coach George Chalos, and Skills Coach Alex King.
The American Collegiate Hockey Assocation Men's Division 1 is a competitive non-varsity league for collegiate ice hockey programs located in the United States that are not affiliated with the National College Athletic Association (NCAA). ACHA men's ice hockey includes Division 1, Division 2, and Division 3 and programs. Visit the ACHA website to learn more and view a map of ACHA-affiliated programs.
Season tickets for the Utah Hockey Season went on sale on Monday, Aug. 29, 2022, and are still available.
---
Trending Now