2022 Men's Division 2 Roster Announced
Posted On September 23, 2022
---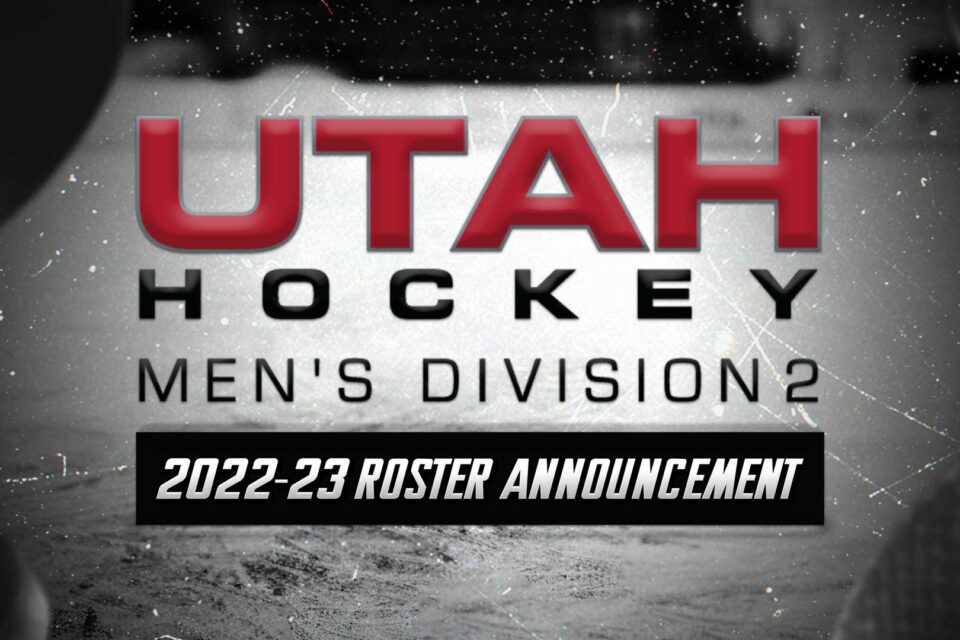 The Utah Hockey Men's Division 2 program has announced their roster for the upcoming season, featuring many returning faces from last year and some newcomers to the team in 2022-23. The M2 team has thirteen forwards and eight defensemen returning from last season as well as one goaltender. The entire roster for the M2 team includes 32 players: 17 forwards, 12 defensemen and 3 goalies.
The 2022-2023 Men's Division 2 Roster
The Forwards:
#3: Samuel Mudd
#8: Otto Chao
#9: Austin Siemankowski
#10: Luke Ossola
#12: Ryan Wirth
#13: Ethan Kurht
#14: Braxton Porter
#15: Maximillian Fenne
#16: Porter Templin
#17: Brandon Kang
#19: Antonio Najera
#20: Jesse Stevenson
#21: Jovial Milich
#27: Evgeny Tretyak
#28: Ezekial Endy
#34: Reed Pitman
#35: Hayden Hill
The Defensemen:
#4: Giustino Bortoluzzi
#5: Hayden Tomechak
#6: Nolan Carpenter
#7: Jack Furlong
#11: Michael Brown
#18: Zachary Monaco
#22: Aiden Baxter
#23: Keaton Morehead
#24: Donovan O'Shea
#25: Jack Umina
#26: Zachary Olszewski
#29: Cole Sheridan
The Goalies:
#30: Michael Biller
#31: Adam Rousselo
#33: Jamie Dziurdzik
The Utah Hockey Men's Division 2 program kicks off their season on Saturday, Sept. 24 against Utah Valley University. The M2 team played Utah Valley three times last season going 2-1-0.
Last season, the M2 team finished the season with a record of 4-13-0, this year the team hopes to improve and finish higher in the standings within the ACHA West Region.
The coaching staff for the M2 team includes Head Coach Nick Fornelius, Assistant Coach David Barnes, Defensive Coach Tyler Pendill and Assistant/Goaltending Coach Tyler Nickels.
The American Collegiate Hockey Assocation Men's Division 2 is a competitive non-varsity league for collegiate ice hockey programs located in the United States that are not affiliated with the National College Athletic Association (NCAA). ACHA men's ice hockey includes Division 1, Division 2, and Division 3 and programs. Visit the ACHA website to learn more and view a map of ACHA-affiliated programs.
Season tickets for the Utah Hockey Season went on sale on Monday, Aug. 29, 2022, and are still available to get ahead of the home opener on Saturday.
Related Images:
---
Trending Now