2022 Women's Division 1 Roster announced
Posted On September 30, 2022
---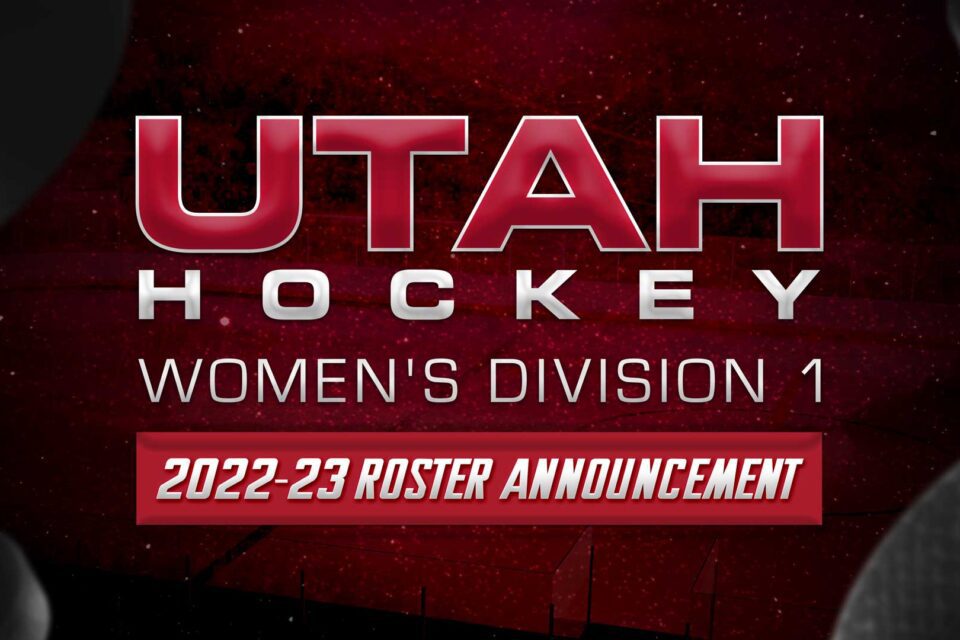 The Utah Hockey Women's Division 1 program has released their roster for the upcoming season, featuring mostly new faces with 15 rookies for the 2022-23 season.
The W1 team has five forwards and five defensemen returning from last season as well as two goaltenders. The entire roster for Women's Division 1 includes 27 players: 15 forwards, 9 defensemen and 3 goalies.
The 2022-2023 Women's Division 1 Roster
The Forwards:
#9: Grace Cruikshank
#11: Halle Hansen
#13: Grace Kerig
#14: Ava Kistner
#15: Adica Nielson
#16: Marykate Schutt
#17: Kaitlyn Yarrow
#18: Garriella Borbolla
#21: Kamden Harris
#22: Mikayla Torrey
#24: Emel Aichele
#25: Ella Brenner
#26: Lila Ellsworth
#27: Aylin Aichele
#29: Caitlin Bailey
The Defensemen:
#3: Samantha Mccain
#5: Jordyn Baker
#6: Ella Webber
#7: Megan Fisch
#8: Kristen Pimentel
#10: Valerie Stevenson
#12: Isabelle Hendry
#23: Carson Beck
#28: Alexandra Bye
The Goalies:
#30: Sarah Olsen
#31: Miranda De Antunano
#32: Samantha Griswold
The Utah Hockey Women's Division 1 program kicks off their season on Friday, Sept. 30 against WWCHL rival Arizona State University. The Skatin' Utes went 1 for 2 with the Sun Devils last season with one win, one loss, and an overtime loss.
Last season, the W1 team finished the season ranked #20 in the nation with a record of 9-8. This season they look to make their first trip to the ACHA National Tournament in program history..
The W1 coaching staff is maintained since last season and includes Head Coach Braeden Yeo, Assistant Coach Rodney Stedt, and Assistant Coach Katie Plyer.
The American Collegiate Hockey Assocation Women's Division 1 is a competitive non-varsity league for collegiate ice hockey programs located in the United States that are not affiliated with the National College Athletic Association (NCAA). ACHA Women's ice hockey includes Division 1 and Division 2 programs. Visit the ACHA website to learn more and view a map of ACHA-affiliated programs.
Season tickets for the Utah Hockey Season went on sale on Monday, Aug. 29, 2022, and are still available.
---
Trending Now