Kinyon Carter (D) Commits to Utah M1
---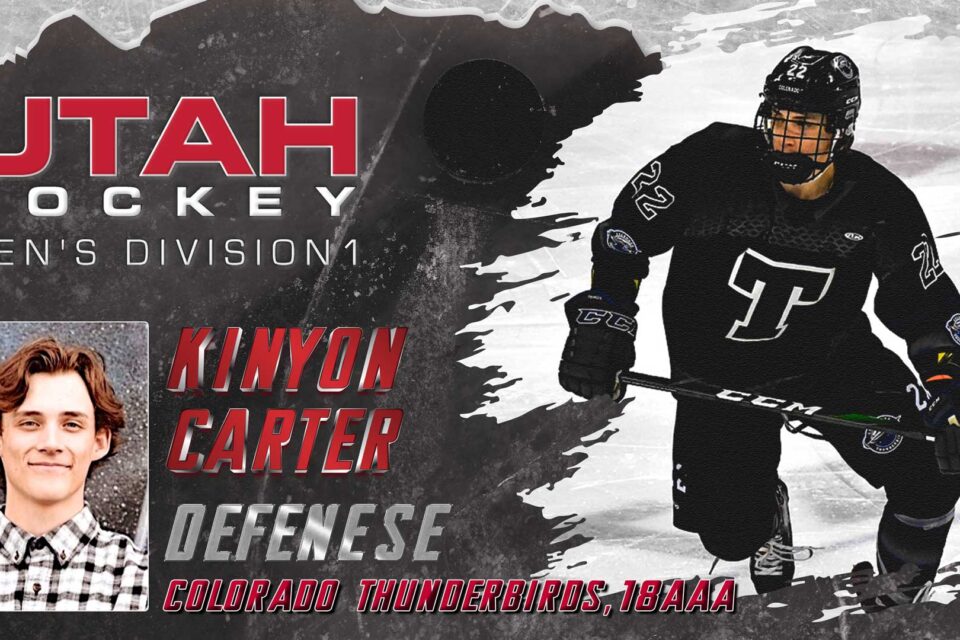 July 15, 2022
Salt Lake City, Utah
University of Utah Men's Division 1 Hockey has received a commitment from Defense Kinyon Carter for the upcoming 2022-23 season.
Kinyon started playing hockey when he was 10 years old, and grew up playing for the Utah Outliers and the West Coast Renegades of the East Coast Elite League teams in Utah. His second year with the Renegades, he was an Assistant captain and was able to attend the All Star game for the ECEL.
"Hockey has pretty much been my main life focus for the past couple of years and I want to continue to play for as long as I can. I'm very excited to commit to playing at the U and starting my Education in my hometown," said Carter.
When Carter was sixteen, he moved out to Wisconsin to play for the Milwaukee Jr. Admirals of the Tier 1 Elite Hockey League. He really enjoyed his time in Wisconsin, attending Brookfield East High School and seeing more competitive hockey as well as living in a different state. After his year in Wisconsin, he moved to Colorado to play for the Colorado Thunderbirds U18 team. Living in Colorado brought him a little closed to home and his family.
"Kinyon will be a big addition to our defensive core. He is a strong skater with high hockey IQ and great playmaking abilities. He is not afraid to play with and edge and makes his presence known every time he steps on the ice. We are very excited to have Kinyon join Utah hockey," Men's Division 1 Head Coach Morgan Feenie said.
In his spare time, he enjoys golfing, camping, and fly fishing.
Carter plans to study Architecture at the U.
Utah Hockey would like to welcome Kinyon and wish him the absolute best in the upcoming season!
---
Trending Now