---
June 3, 2021
Salt Lake City, Utah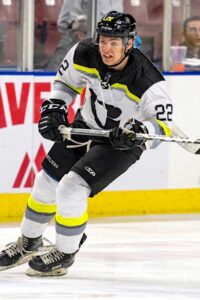 University of Utah Hockey has received a commitment from Forward Ryan Wirth for the upcoming 2021-22 season.
Ryan is from Columbus, Indiana and grew up playing hockey with the Columbus Youth Hockey program for the Columbus Flames and the Columbus Icemen. He spent the past few years playing for the Pueblo Bulls, Utah Outliers, and Provo Riverblades.
"We are excited to have Wirth join our team. He is a strong assertive player and fierce competitor who will stand up for his teammates. His style of play will fit in perfectly with our strategy for next season and our coaching staff has big expectations of him. Ryan will be a player who will come in and make an immediate impact for us as well as assisting in establishing a long-standing tradition of success at the U," Men's Division 1 Head Coach Morgan Feenie said.
In addition to playing hockey, Wirth enjoys SCUBA diving, sailing, rock climbing, fishing, skiing, and mountain biking. Since his sophomore year of high school, Wirth has been involved with Aviation Nation, a non-profit program for high schools where students are given the opportunity build an experimental aircraft and currently serves as a board member.
Wirth plans to major in Finance at the U.
Utah Hockey would like to welcome Ryan and wish him the absolute best in the upcoming season!
---
Trending Now