---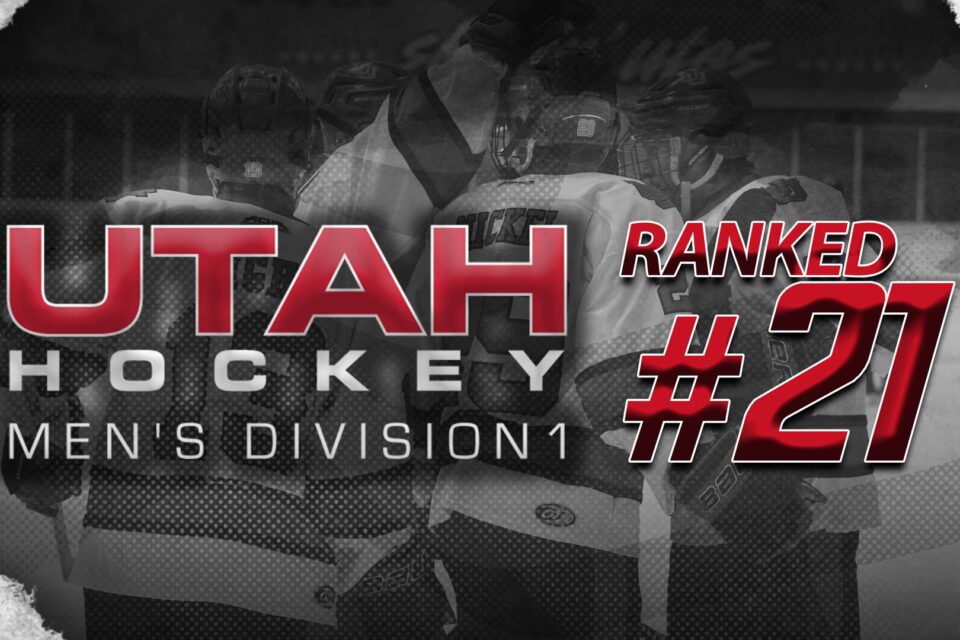 November 8, 2023
Salt Lake City, Utah
This week the American Collegiate Hockey Association released a ranking of the top 25 teams in Men's Division 1 so far in the 2023-24 season. Out of 9 conferences and 72 teams, the M1 University of Utah Skatin' Utes found themselves ranked 21st overall. A handful of the other teams on the list are squads that the Utes have played and some of which they will play again, with many of them being in the same conference as well.
Utah picked up 2 huge wins against Arizona State University before the bye weekend, getting their record to 5-5-1 on the season. ASU is ranked at 24th and Utah's weekend sweep against them definitely strengthened the Utes position in the rankings and impressed many.
Their 3-1 win on Thursday, October 26th was marked by stout defense and goaltending, along with finding some offense. Ethan Light (1G & 1A) and Kinyon Carter (2A) both had two-point nights and netminder Joseph Greilich stopped 25/26. Friday night's win was a closer contest, with the teams going goal-for-goal until the 3rd frame ended with a 3-3 score. With an odd-man rush in overtime Light and Landon Langenbruner executed a perfect give-and-go, as Light slid the puck through the defender and Langenbrunerr put it past the sprawling ASU goaltender for the 4-3 OT win.
Laying 5 places ahead of Utah in the rankings is Calvin University, another team that the Utes have faced off against this year. In their first meeting in Grand Rapids the Utes took a 7-0 drumming but bounced back with a vengeance the following day, coming back from 2 goals down to pull out a triumphant 4-2 victory. The Utes left Michigan with 3 crucial points collected against a very impressive team.
Ranked at the number 4 spot is the University of Nevada-Las Vegas, who swept the M1 squad in mid October. Another team who had their way with the Utes was the University of Arizona (they also swept the Utes during opening weekend in Tucson) and they are ranked at 11th. While facing both of these opponents Utah had a one-goal loss and also a very large defeat. Utah is knocking at the door and capable of beating most of the top 20 teams of the M1 ACHA rankings.
Utah is in the Western Collegiate Hockey League and excluding the Utes, there are 5 other members of the conference in the ACHA's top 25 ranking. Previously mentioned UNLV, UoA, and ASU are ahead of Utah in the rankings along with the University of Central Oklahoma, who sit at 2nd on the list. The Bronchos have an impressive 27 points out of a possible 30, they hold a +45 goal differential, and have defeated very good teams such as Maryville University and University of Mary. A WCHL member behind Utah in the rankings is the University of Oklahoma at 24th.
The M1 Utes have recently completed a bye-week but will be working hard on their game and gearing up for their home-opener against the University of Colorado on November 10th. The Buffaloes are also enjoying a bye-week after getting dominated by UCO last weekend. After the Buffaloes the Utes will look to get even and then some against the Arizona Wildcats and then they will have the chance to beat up on San Diego State University team. All of these games will be on home ice and they will be crucial for Utah, racking up points in their own rink will ensure their ascension into the top 20 of the rankings, and beating up on WCHL teams will put them in a great position going forward.
The Skatin' Utes have looked great so far this season but they know that they are more than capable of reaching another level of play. Starting their season off with 5 road trips and 11 games was no easy task but they managed to pick up 16 points and are ready to return to their own barn. They know that they have a great opportunity to bank more points during this upcoming 6-game home stretch, which would propel them even higher in the rankings.
Full rankings can be found here.
Full standings can be found here.
2022-2023 ACHA Men's Division I Ranking #5
Rank
School Name
M1 Record
Previous
Conference
1
Minot State
11-1-0
1
INDEP
2
Central Oklahoma
11-1-0
2
WCHL
3
Mary
6-3-1
4
MCH
4
Nevada-Las Vegas
11-1-0
3
WCHL
5
Adrian
10-2-0
6
GLCHL
6
Jamestown
8-3-0
8
MCH
7
Niagara
10-2-0
5
ESCHL
8
Grand Valley State
8-1-2
7
GLCHL
9
Indiana Tech
11-2-0
10
WHAC
10
Liberty
7-6-1
15
INDEP
11
Arizona
5-3-1
11
WCHL
12
Ohio
7-4-1
14
INDEP
13
Maryville
7-6-1
12
INDEP
14
Iowa State
4-0-0
9
INDEP
15
Missouri State
7-5-1
20
WCHL
16
Calvin
10-3-1
19
GLCHL
17
Michigan-Dearborn
11-0-0
13
WHAC
18
Davenport
9-2-0
NR
GLCHL
19
Colorado State
8-3-1
NR
WCHL
20
Purdue Northwest
8-5-0
NR
GLCHL
21
Utah
5-5-1
21
WCHL
22
Illinois State
9-7-0
NR
MCH
23
New York
5-1-2
17
ESCHL
24
Arizona State
6-4-1
16
WCHL
25
Pittsburgh
9-5-1
25
ESCHL
Related Images:
---